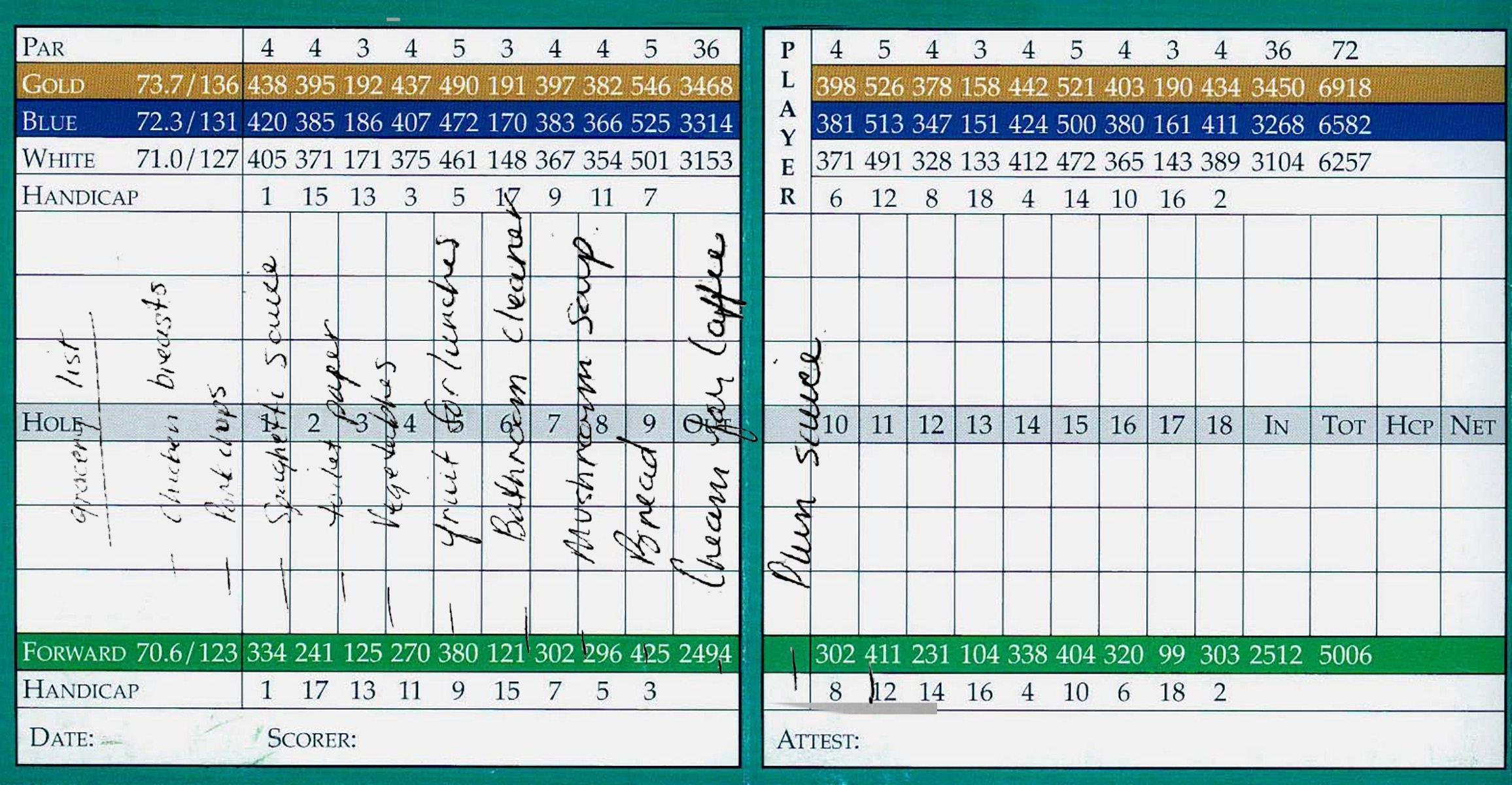 The Argument For Not Keeping Score
From the movie Caddyshack
Judge Smalls (Ted Knight): Ty, what did you shoot today?Ty Webb (Chevy Chase): Oh Judge, I don't keep score.Judge Smalls: Then how do you measure yourself with other golfers?Ty Webb: By height.
The city of Spokane's Parks and Recreation department advertises its golf courses with the slogan, "Friends Don't Keep Score" and there's the hilarious scene from the movie Caddyshack, above, but we wondered if we were the only ones really not keeping track of the numbers from time to time. Turns out we're far from alone. Here are some varying takes on leaving the scorecard in the pro shop:
Article continues below advertisement
Don't keep score. Don't even bring along a scorecard. Play the hole, win the hole. You'll have so much more fun, at least while your handicap is high… For women just starting out, the most important thing is to remember that golf is a game, not a test.
From Golf Girl's Little Tartan Book: How to be True to Your Sex and Get the Most From Your Game, by Patricia Hannigan
Scoreless Chat
Searching through various golf-related chatrooms online, we came across a few "scoreless" conversations. Here are a few excerpts from one on thesandtrap.com, edited for size and content:
I find golf to be much more fun when I don't keep score. At the end of the round, I might reflect back on how many holes I shot par or better, or a certain fantastic shot. I just think it is way easier to forget the "blow up" holes when you don't have a written record of them… If I am having fun and leave with a smile on my face, what's the difference.
clearwaterms
Article continues below advertisement
I like to not keep score sometimes because I just enjoy the game rather than trying to meet an expectation. It really lets you get down to enjoying each shot for what it's worth.
saevel25
My dad does this. He does not generally keep score. Golf for him is just a social thing completely. He does not want to care about his shots or his score. It is just four hours of quality time that he can hang out with his sons, friends or business associates. I can appreciate it, but it is not for me.
cipher
It is much more fun for me now when I don't keep a score card. It is about that one shot off the tee or that great one putt. I won't hit my clubs in rocky dirt or a place that would damage them but will hit from any other place good or bad. Just enjoying the game with my son or friends and, like you clearwaterms, I leave with a smile on my face.
hacker101
Keeping score and the challenge of improving is what draws me deeper into the sport. My time wouldn't be ruined if I didn't keep score but I like to do things I enjoy while working at getting better.
newtogolf
Not staring at a scorecard takes a lot of pressure off for some reason.
BENtSwing
I agree w/ newtogolf. Part of the fun for me is trying to get better. Golf really is a hobby for me now and I have a little more fun getting into it. I like having a handicap and thinking of ways to score better. I might even envy you for your ability to not care about the score, but I certainly don't do it that way.
Meltdwhiskey
For me, I tend to split my rounds between "competitive" and "pure fun." When I am playing by myself or with the guys I tend to play a more competitive game, not only keeping total score but I also keep record of total strokes/hole, [greens in regulation] and putts while trying to work on my handicap. However, I really enjoy the other half of the rounds playing with my wife and, on occasion, with her girl friend. I would play from the forward (ladies) tees with them but I only use my irons (5-SW) and a putter, and do not keep score. It is a lot of fun and has helped my short game a great deal.
teed off