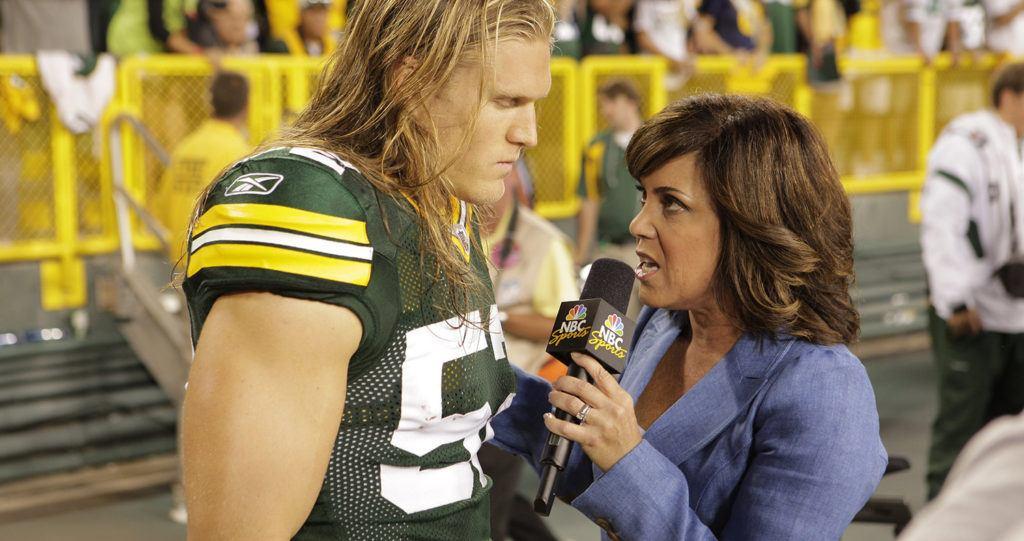 Locker Room Talk: Female Sports Journalists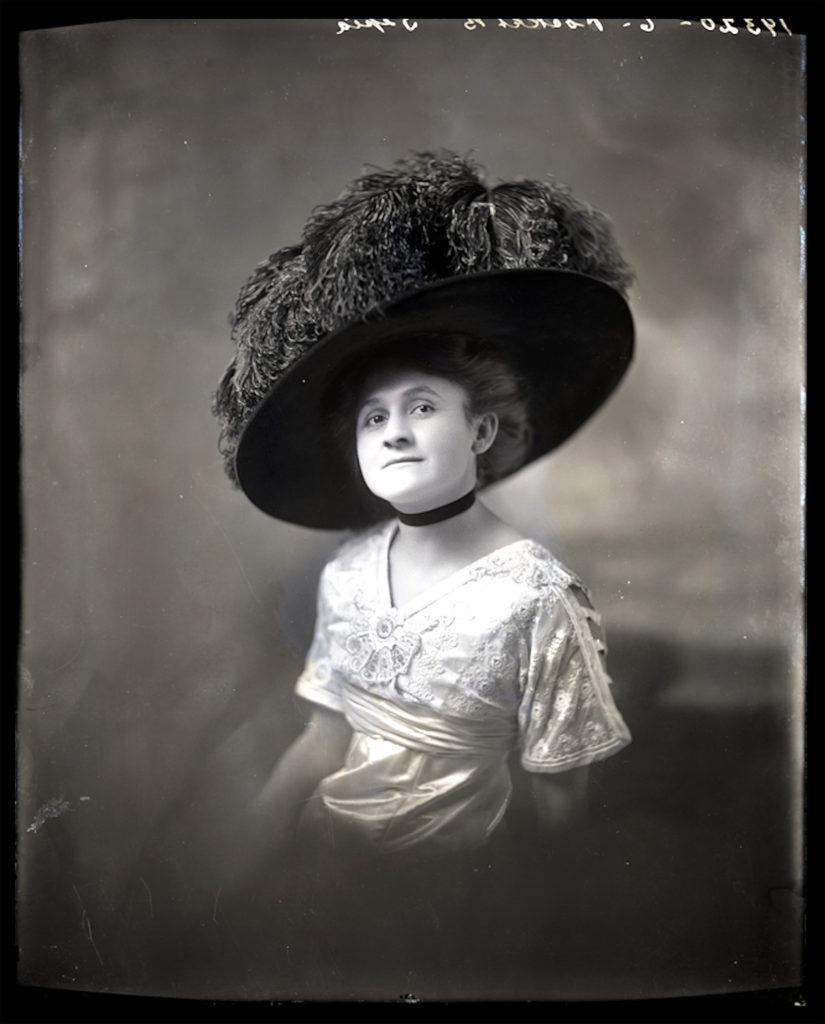 Article continues below advertisement
The stands are not double deckers like those in Chicago, but the grounds look bigger on account of the more open space. It was a pretty crowd too, the women in their bright autumn colors, the men in overcoats and new fall hats, all blended with a soft haze of cigar smoke that rose in a pe-culiar curtain from places all over the stand, giving a fall tinge to the air.
Painterly writing from game four of the 1908 World Series, but it's what's in the rest of the article that's interesting:
With two dead in the third, Schulte waited for four wide ones and stole—the Cubs usually steal when they get on—Thomas being effective only twice in the games in which he and Schmidt have worked. Schmidt caught Kling once today going to second, rather a reversal on Kling who had been doing that thing to Detroit burglars all week.
Article continues below advertisement
"An infamous moment from recent politics would have us believe so, but in conversations with some of the top women in sports media today we found that the locker room, more than just a place to let it all hang out, is a kind of community…"
-
And there's more. Over five games, the journalist displayed solid knowledge of baseball and of the teams on the field. So what, you might say. That's a sportswriter's job, after all.
Yet the articles published that October in Colorado's TrinidadChronicle–News comprise some of the most important sportswriting in U.S. history, not because of the game and not because of the players involved, but because of the byline: Ina E. Young. Young didn't send any tweets from Detroit's Bennett Park.
Article continues below advertisement
It's unlikely that Chicagoans pestered her with handwritten comments about the size of her breasts (sequestered behind a bodice, as they were) or that Tigers fans called for her to be raped because she wrote that their team "failed to show class" in losing to the Cubs.
Those are modern messages directed at modern women, and social media in 1908 wasn't what it is today. But Young did have at least two things in common with women who cover sports now: (1) she worked in a man's world and (2) she had to be damn good at her job to do it.
Probably America's first woman sports editor, Young left the University of Colorado at Boulder, where she'd studied journalism and played basketball, and joined the paper in 1904. She became the baseball writer because no man in the office knew how to score the game (she grew up playing it with her brother) and in 1906 she took over the sports desk.
We know that she had a deep knowledge of sports, which extended to football and to horse racing, but we don't know how she did her job, exactly, the specific pressures or challenges she faced. Was she harassed by fans? Did the coaches respect her?
Article continues below advertisement
It's almost certain she never set foot in a men's locker room, and what would she have heard if she had? The "f-word" and "c-word" were in use in the early 20th century along with a few others we'd recognize.
But is that how men spoke in locker rooms back then?
Is it how they speak there now? An infamous moment from recent politics would have us believe so, but in conversations with some of the top women in sports media today we found that the locker room, more than just a place to let it all hang out, is a kind of community: sometimes an office, sometimes a lion's den, sometimes a barbershop.
Accordingly, just as it undoubtedly did in Young's day, "locker room talk" has many voices. From the modern era, here are just a few:
Christine Brennan is an award-winning sports columnist for USA Today and a commentator for ABC News, CNN, PBS NewsHour and NPR 's Morning Edition. The first woman sportswriter at The Miami Herald, she's a former staffer at The Washington Post, a best-selling author and a known speaker who's covered the last 17 Olympic Games.
Article continues below advertisement
Kate Fagan played basketball at University of Colorado at Boulder before covering the 76ers for the Philadelphia Inquirer. A writer and on-air personality for ESPN, her memoir Reappearing Act is a compelling work detailing her coming out as a lesbian while playing for a college team.
Jemele Hill graduated from Michigan State and worked as a sportswriter in Detroit and Orlando before joining ESPN where she is now a SportsCenter anchor on The Six with Michael Smith, and is known for regular appearances on Around the Horn, First Take and other shows.
Jackie MacMullan played basketball at University of New Hampshire before going to work for the BostonGlobe. She's collaborated on books with Larry Bird, Magic Johnson and Shaquille O'Neal, and currently works as a correspondent for several networks, including ESPN.
Michele Tafoya is an Emmy Award-winning sideline reporter for N B C 's Sunday Night Football who's worked more than 200 games, including Super Bowls. Formerly with ABC, CBS and ESPN, she once worked an NBA game and an NFL game on the same day.
Article continues below advertisement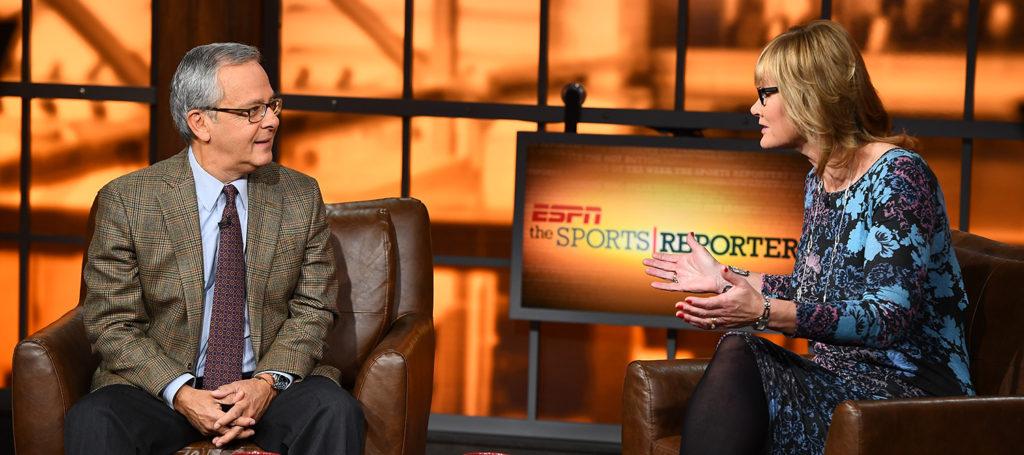 First Locker Room
I went to cover a U Mass football game… Heading into the locker room after the game there was a security guard there and he's checking credentials. He saw mine and it was, 'Yeah, you're not going in there.' Yes I am, I'm Jackie MacMullan from the Globe and I'm doing my job. He physically wouldn't let me in there. I'm 21, it's my first assignment, and I was thinking what the hell am I going to do here.
I circled back around, and this time he's really physically got his hands on me, preventing me from going in the locker room. I didn't know anybody, I was just out of UNH [University of New Hampshire]. But other reporters there had the decency to go to the football coach and tell him what was going on.
Article continues below advertisement
He went out there, took that guy's name and badge number and reamed him out. If it were different reporters, a different coach, who knows how it would have turned out. Then the coach put his arm around me and said, 'How can I help you?' And I started to cry. The whole thing was so terrifying. It was my very first assignment, my very first experience.
—Jackie MacMullan
I definitely was scared, there's no question about it. I was a sports intern at The Plain Dealer in Cleveland. The Indians were super good that year, and I'd cover a lot of Indians games. It wasn't easy because on that Indians team you had Albert Belle, not the nicest guy.
He was such a terror, he added this tension to the locker room. Given my [young] age and being a woman, the fact that I'm black, there weren't too many that looked like me walking in there, and you felt that immediate tension. You have to act like you belong there. It's kind of like with a dog: don't let them sense your fear.
—Jemele Hill
Article continues below advertisement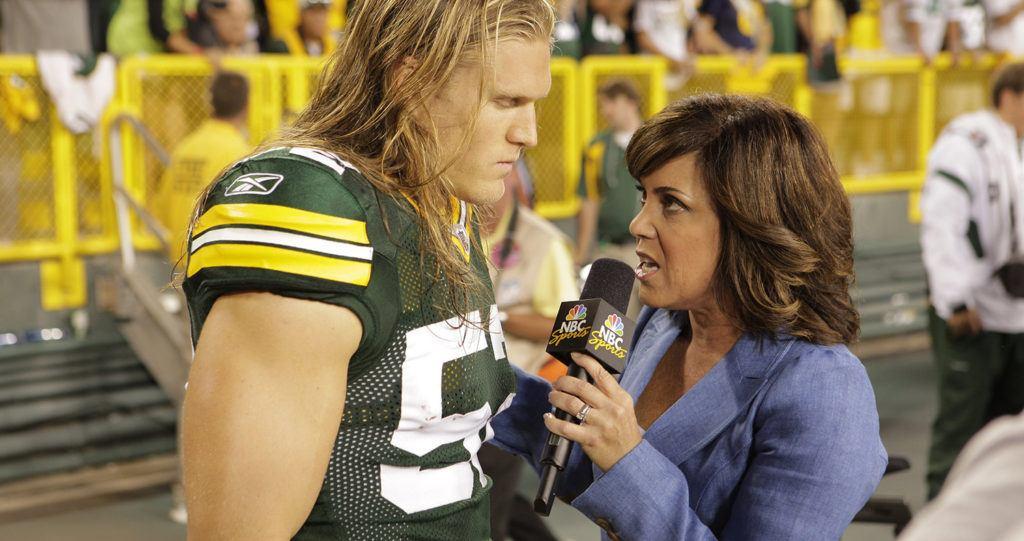 Harassment
The Rockets were playing at Charlotte, I had to go in the locker room afterwards. It was my first time in the locker room. I remember as I walked in some attendant yelled, 'lady in the locker room!' It was like a movie scene or something. I remember I was going to go talk to someone—I can't even remember who—his eyes were the size of paper plates.
I had the 'eyebrow rule,' constantly look at their eyebrows. I was standing there talking to him and the man next to him said, 'Hey! Give the man a chance to get dressed.' I was looking at his eyebrows and I didn't realize that he was standing there stark naked."
—Michele Tafoya
Article continues below advertisement
I was in a team hotel with the Gators, on the road. It was some game like Mississippi State or LSU or wherever. I got out of the elevator with this assistant coach from the Gators and we're walking along, both going the same way down the hall to our rooms. I'd known him for a season and a half or so, I'm walking to my room and he's walking to his. The rooms were across the hall from each other.
I didn't know that, it didn't matter. I said, 'good to see you,' and he leans over and kisses me. I was startled and pushed him away. I was like, 'Woah!' Went into my room. He didn't pursue me and I never said anything—because that's what you did, you didn't say anything. I probably interviewed him a few days later.
—Christine Brennan
Every time I think we're past all this, we're not. A letter was sent to my home recently—to my home, my home address—and it named my children, and it was a horrible letter. I ignore those people.
—Jackie MacMullan
Article continues below advertisement
Oh yeah it happens, you know, every time I open my mouth. If I had a dollar for every tweet that tells me, 'this is why I don't like women that talk sports' I wouldn't have to work right now. I get attacked for my gender or my race or some combination of the two.
It's an unfortunate part of the business. When younger female journalists ask me how to navigate that, it pains me to tell them that for now they have to accept it. You have to have a thicker skin—they will come at you harder if you are a woman, and especially a woman of color. It's based off your gender that you don't belong in this male-dominated space.
—Jemele Hill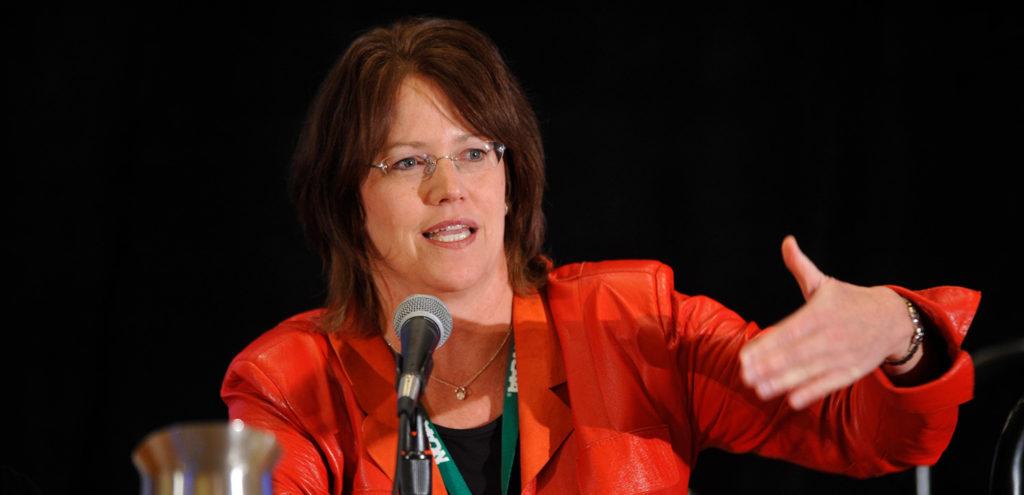 Article continues below advertisement
Covering Women's Sports
I'm constantly trying to figure out the key to getting more deep, interesting, diverse coverage of female athletes and women's sports… I want to fight for female athletes, but I did not know it would be this hard. In production meetings I'll say 'Let's talk about this topic!' … But nobody knows the story lines, and so they're never going to be interested. It's been a lot harder than I thought.
Sometimes I won't have the energy to even pitch the topic and then I have to remind myself no, this is a value that you hold. I think it might be as if someone said, OK, we're going to talk about the Polish Soccer League, we're going to discuss whether Warsaw can beat Krakow.
You and I would be like, 'Oh my God, I don't know anything about that! I'm going to have to spend all night trying to understand the history of the franchise.' Similarly, if I'm like, 'The Sparks are playing the Lynx,' you've got a lot of people in that room going, 'Uh… I don't know anybody playing in that game. That's a homework assignment.'
—Kate Fagan
Being Hit On
I once had a player ask me for my number, and it was 'No let me take yours. If I need something from you, I'll let you know.' I reached out to him related to a story, he tried to maneuver the situation to tell me that, hey, listen, let's meet up, let's hang out, that kind of thing.
I could see where that was leading: 'No, can't do that.' Didn't give him any kind of speech, didn't want it to get weird, I just declined. He asked me again much later on, then he got the picture.
—Jemele Hill
Article continues below advertisement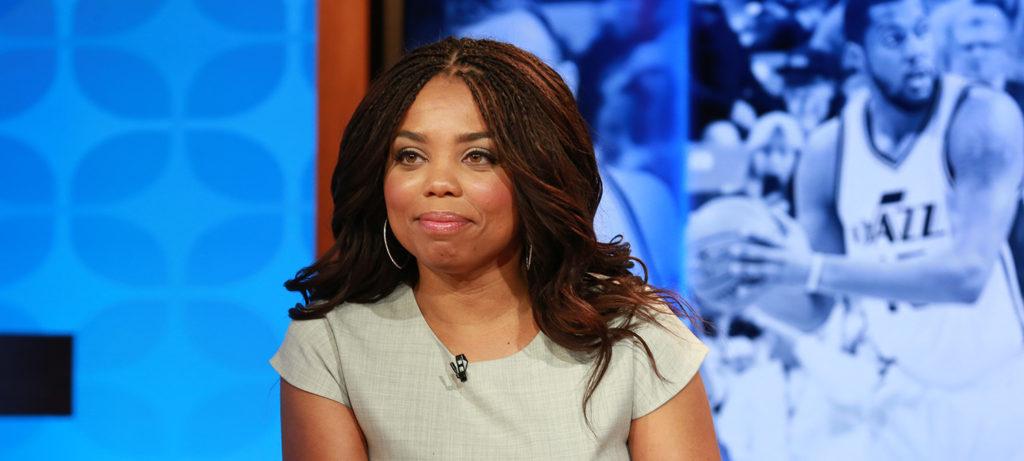 Covering Domestic Violence In Sports
I feel like it's a no-win situation for women in sports media. Like Mixon [University of Oklahoma football player Joe Mixon, who was caught on video punching a woman], it's a no-win. If I go on SportsCenter and I in any way suggest, 'Well, Joe Mixon, what was his life like before that moment?' then you're an apologist.
And if you do the thing people expect, 'Joe Mixon shouldn't be on the football field! This is abhorrent!' then you're the feminazi. I'm not trying to make myself a victim, these are the things you do think about."
—Kate Fagan
Article continues below advertisement
Judged On Beauty
"It's a visual medium and it is what it is. Is there a double standard? Of course there is. The beautiful person is always going to have the advantage—that's where people's eyes go… It's human nature to turn your head when something beautiful is there, whether it's a magnolia tree or a really hot guy or an adorable baby or a gorgeous car. I'm not the Ferrari, I'm a really talented Ford. I know it, I know where I fit. I'm very aware of that."
—Michele Tafoya
I'm not a glamorous person—I wasn't so hideous they couldn't put me on TV, but you know what I mean. So they put me on, I'm in my late 20s or early 30s, and I always thought 'there's a shelf life to this. Once I turn 40 or 50 they're not going to keep me on.'
But you know what? I'm 56 years old and I'm still on television. ESPN has a lot of women in fairly prominent roles who are not eye candy. They have some that are. But they have a lot of accomplished women who are in their 40s, 50s, and I'm really proud of ESPN for that. That wouldn't have happened 20 years ago.
—Jackie MacMullan
Article continues below advertisement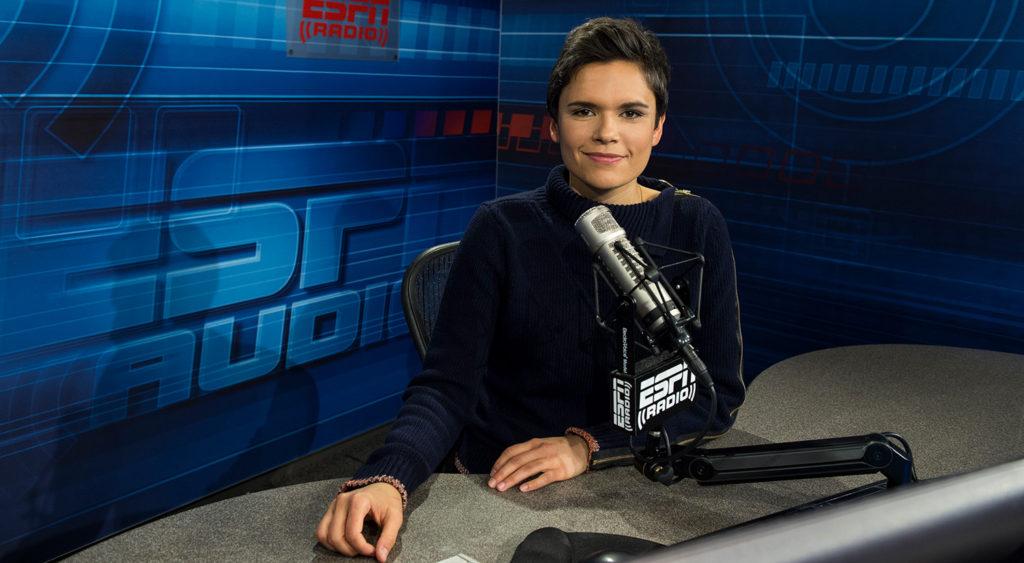 Locker Room Talk
I've been in close to probably 1,000 locker rooms, and I never heard that [the now-infamous statements made in 2016 by then-candidate Donald Trump, which he later characterized as "locker room talk"]. For me locker room talk is guys whooping and hollering, it's happiness when they win a game.
—Christine Brennan
Article continues below advertisement
I've heard two sides of the story: I've never heard people in a locker room talk like that. But I went out to dinner with a bunch of guys after that, and it was interesting to me because to a person they said, 'if everything I ever said was on tape I'd never have a job.' Every single one of them. 'We've all said that stuff.
We didn't get caught and that's why I'm not running for President'… I can't think of a time when I've ever heard it, but once the press is in there they're on their best behavior.
—Michele Tafoya
Locker room talk = things you know you shouldn't say.
—Kate Fagan (via text)
The greatest compliment I ever got was when Matt Guokas, the coach of the Orlando Magic, was telling a story. He swore and one of the guys said, 'Hey, Matt,' and pointed at me. Guokas said, 'What? It's Jackie!' He came up to me later and said, 'I hope you weren't offended, I just consider you one of the guys.' That was the greatest compliment.
—Jackie MacMullan
Article continues below advertisement
You can certainly hear some interesting conversations, not just about women, but about family, and guys are more emotionally naked—pun intended—in the locker room. I can say that in all the time that I was covering the pros and college, I never heard a player say anything disrespectful about a woman.
I heard them talk about women, but it never came off as vindictive or threatening; it was nothing big. A lot of them understandably took offense [to the Trump characterization].
I'm not saying everybody's in there talking about Bible verses, but what they're not doing is openly talking about sexual assault, that it's all right. It's like barbershop talk, it's really talk that, at the heart of it, what you want it to be is honest, open discussion.
I've certainly heard a lot of that about race and politics and other kinds of things, and that's OK because the beauty of a locker room, just like this nation overall, is that you have people of different opinions and different economic backgrounds and races all working with the idea of accomplishing something together.
—Jemele Hill