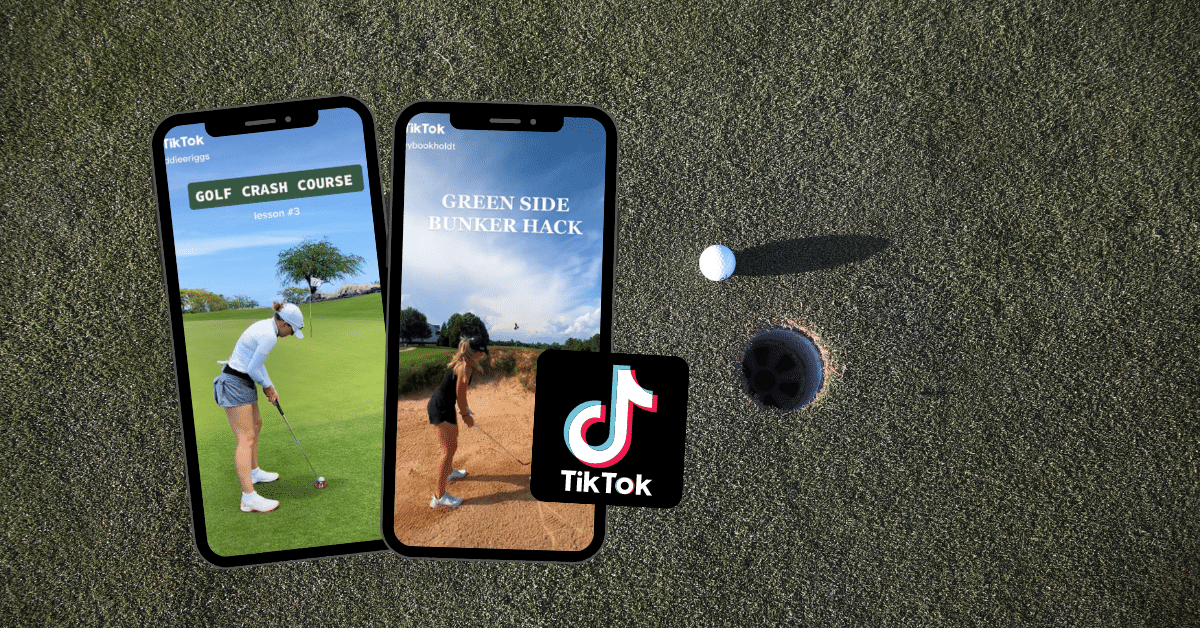 GolfTok: 5 Female Athletes To Follow On TikTok For Golf Advice
If you haven't yet downloaded the social media app TikTok, you may want to reconsider. Aside from viral dances and A+ pet content, TikTok is a well of knowledge for golfers looking to improve their game, especially for women who are new to the sport. Similar to the effect that quarantine and lockdowns had on growing the game of golf, TikTok has inspired golfers of all ages and talent levels to pick up a set a clubs and hit the course.
Article continues below advertisement
Top Women's Golf TikTok Accounts
From amateurs to former LPGA athletes and instructors, Golf-Tok is breaking down stigmas surrounding the traditionally viewed male-only sport and is encouraging more women to play through videos shared by women who actually golf. There's no denying the power of visibility in media, and these female golfers on TikTok are the who's who to follow for practice tips, drills and on-course mindset advice.
Haley Bookholdt
Haley Bookholdt (@haleybookholdt) is an amateur golfer and former member of Elon Unversity's women's golf team. Bookholdt has over 114,700 TikTok followers and her videos have garnered over 3.3 million likes. Bookholdt's TikTok bio appropriately reads, "Welcome to your golf girl era," which is fitting for her beginner to intermediate-level videos that include tips on how to get out of tricky shots, driving range posture improvements and drills. Bookholdt's videos also include golf lifestyle topics like where to buy appropriate (but stylish) golf apparel as well as addressing the inequities of the male-dominated sport. Upbeat, easy to digest information and quick videos make Bookholdt's account a great follow for any woman who's interested in the sport.
Nathalie Filler Sheehan
Nathalie Filler Sheehan (@nattiegolf) is a former Division I collegiate golfer for the University of Delaware and former professional golfer. Sheehan has over 11,200 followers and more than 45,400 likes across her page. Currently, Sheehan is a Tampa-based instructor who's worked under notable pros like Suzy Whaley. Utilizing her years of experience and time as a collegiate and professional golfer, Sheehan shares a mix of drills and tips to apply on the course and driving range. Sheehan's advice can easily be self-taught and encourages building confidence regardless of skill level. Unlike many #GolfGirls accounts, Sheehan's page is set up with transparency: bolded text on each video reads straightforward (ex: "distance control" or "hit perfect wedge shots") so you won't have to waste your time sifting through personal content to finally get to the good stuff: golf advice!
Article continues below advertisement
Jennelle Wroge
Jennelle Wroge (@tipsfromagolfpro) is an LPGA-certified golf instructor sharing her wealth of knowledge to her 49,200 TikTok followers. Wroge's videos are like a mini one-on-one lesson that include various drills and tips on what not to do. This mix of tips, drills and lessons, which point out common errors in swing, posture and approach, helps break down the game and offers a different perspective to learning the sport and refining your craft. Another unique aspect of Wroge's instructional account is the attention paid to junior golfers. Given the wide age range of TikTok, with a concentrated younger audience, Wroge is helping expand the game and encourage young athletes to continue playing.
Article continues below advertisement
Kerry Maher
Kerry Maher (@kerrymahergetverticle) brings over 30 years of golf instruction to her 38,900 TikTok followers. Maher's page features a mix of golf-inspired workouts, yoga for recovery, drills and of course, tips on how to improve your game. Maher joins in on fun TikTok trends from time to time and shares personal anecdotes from her decades spent in the sport. Maher's videos address the sport in a different way by combining applicable advice with lesser known habits that are utilized by professionals. Of the many tips Maher shares with viewers, many include Maher without a club. This helps beginners not only get a better feel for the crucial (and not as intuitive) body motions that aid in success, but also approaches the sport with less intimidation and distraction.
Article continues below advertisement
Maddie Riggs
Maddie Riggs (@maddieeriggs) is a former Division I athlete for UC Irvine women's golf turned professional. Among Riggs' many videos, her 'golf crash course' series is popular among beginners looking for tips to tweak their game. Her on-course drills can easily be replicated, giving viewers a more hands-on approach and visual guide for real life application. The recent college graduate signals the next generation of women in golf, and her honesty towards the game draws in followers who may remain skeptical. Another benefit of Riggs' TikToks include her captions breaking down her swing from shot to shot. This can help those who are new to the sport or simply want to shave a few strokes off their scorecards by visually breaking down the key components of a thorough swing.