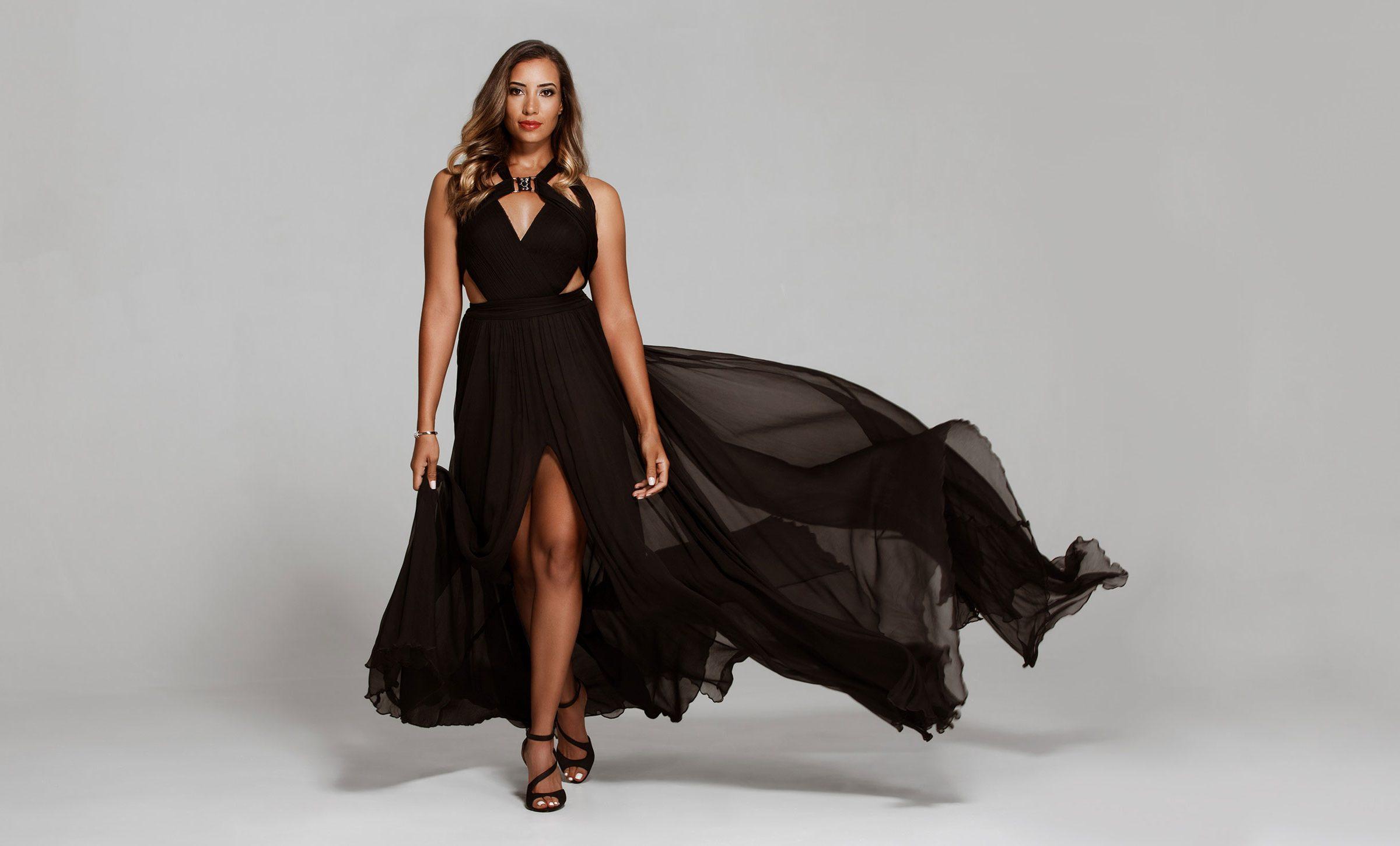 Cheyenne Woods On Confidence, Race, And Ice Cream
Getting to the pro ranks isn't easy, and certainly not for an African American woman. In 66 years of the LPGA there have been only six black pros, including the three now playing: (most recently, Mariah Steakhouse,) Cheyenne Woods and Sadena Parks, who've known each other since they were teenagers. But of course Cheyenne has that other thing, that "do you really have to mention it" thing, the looming shadow that's hung over her professional career ever since she was a little girl and which has brought more pressure to her game than anyone can imagine: her serious love of mint chocolate chip ice cream.
Article continues below advertisement
"I love it," she says. "It's hard not to eat too much—it's the perfect blend of creamy and minty."
-
OK, while her fitness regime and diet are no joke, ice cream does not, in fact, define Cheyenne Woods. But then neither does her last name, at least not like you might think. Not anymore.
"I would say that in the last maybe four or five months, there's been a drastic change in how I feel about it," she says. "Ever since I was 10 years old, when I started playing competitively, that's what I've been called, that's what I've been referred to as: 'Tiger Woods' niece.' When you constantly hear that about yourself, you start to believe that's all you are. Although I was a great golfer in my own right, it would always be the headline: 'Tiger Woods' niece.' The first year and a half of playing on Tour I struggled with it internally, and it's taken me a few years to get to where I am today."
Article continues below advertisement
Where she is today, at the age of 26, is finishing her third year on the LPGA Tour, and still growing into the formidable strength that comes from constantly drawing—and holding—the line between herself and the noise around arguably the world's most famous golfer.
"How often are you asked personal questions about your uncle? Once a month? Once a year? Never? For me, it happens almost every day," she wrote in a 2015 essay entitled What's in a Name?, which appeared on Derek Jeter's athlete-centric website, theplayerstribune.com. Beyond the game comparisons, which began when Cheyenne first picked up a club as a little girl, she's caught plenty of Tiger's light—and shadows—off course as well.
Article continues below advertisement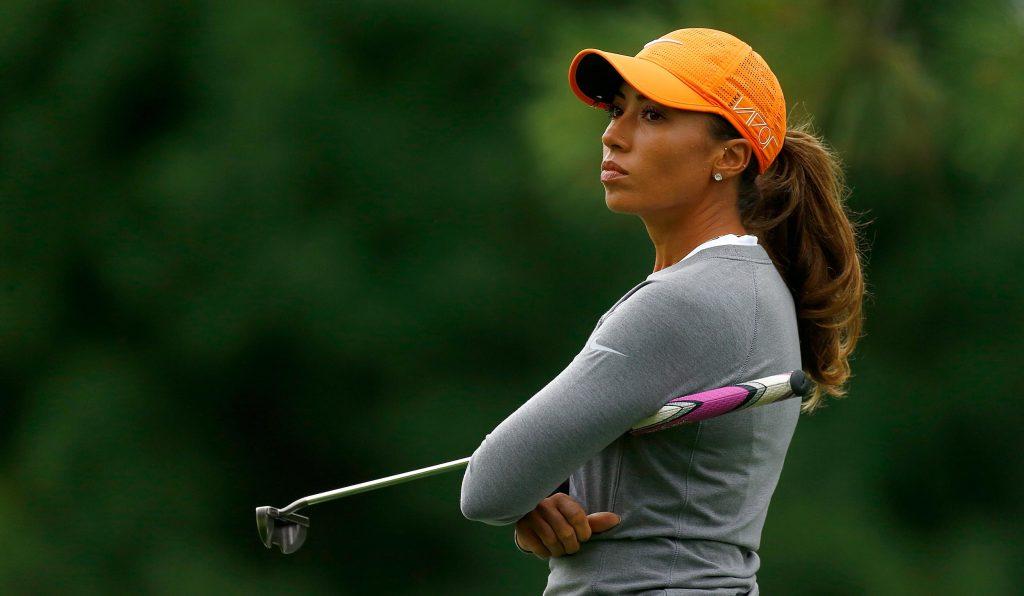 "Going to a tournament, I'll have fans come up and yell, 'Tell Tiger I said hi!'," she says. "And when I go to the airport or they're checking my name somewhere, they're like 'Oh, Woods. Any relation?' And sometimes I'll say 'no' just because I don't want to have the conversation. "Recently when I said 'no,' the man said, 'Oh good. I was about to say… Because, you know, he doesn't have the best reputation.' It's not worth saying anything, it's just not worth it. They'll say a lot of stuff about Tiger, bad stuff, and I'll defend him. Everyone has stuff they go through. It is what it is."
Article continues below advertisement
"I grew up here in Phoenix," she says. "Mexican food is everywhere, and I love it. Mom would cook quite often; it was expensive to go out and eat, and so she'd make a simple stir fry. My dad makes an amazing spaghetti, and when I'd go to his house he'd make it. Simple, but there's nothing better than a home cooked meal."
Cheyenne's mother Susan and father Earl Dennison Woods, Jr. (Tiger's half-brother) divorced when she was about two years old, but she says it never seemed like a big deal.
"For me it was kind of just what I always knew, 'going to my dad's house this weekend.' It never really affected me in a major way. A few of my friends' parents were together, and I always wondered what that would be like—two parents in a house! That would be cool! But my dad and I, we'd go fishing, grill outside, we always had those special things we would do together. I have a great relationship with my dad, [the separation] is not something that was super negative. My parents worked it out well and we didn't know anything different."
Article continues below advertisement
Cheyenne's childhood was full of family moments and sports, which mostly came easy to her.
"We played a lot of sports growing up, me and my two older brothers. I was always running around with them doing what they were doing. I was a huge tomboy when I was young, playing basketball with my brothers when I was four or five years old. They'd all be in the backyard with their friends, they'd all throw their shirts up on the roof—so I'd throw my shirt up on the roof! I wanted to be with the guys, I thought that was normal."
Cheyenne's grandfather, Earl, Tiger's father, bought her a set of golf clubs when she was five years old. If she got excited about the game then, she says, it was at least partly due to being caught up in some of the same excitement that gripped a lot of kids in the mid-late 1990s when her uncle's face started appearing everywhere.
"I was starting to become aware of who Tiger was, and I wanted to go and play golf too because that was a cool thing to do," she says. "But up until high school I always had another sport. I danced competitively for six years, ran track for a long time. But golf was something that came naturally to me. I saw that I was good at it, and because I was so competitive and it was something I was good at, I always saw a future."
Article continues below advertisement
"Seeing Tiger on TV, I saw me having that same thing. That was a big part of why I decided to play… He did it, I can do it."
-
Asked if she would be on the golf course if Tiger had never existed, Cheyenne pauses.
"That would be tough… I don't think that I would have believed that it was possible as much as I did when I was young. Neither of my parents ever played golf, but with my grandfather kind of telling us what to do, encouraging me whenever I needed it, and then seeing Tiger as part of my family… It's the equivalent of if you see your parents successful in a position and you think you can be successful in the same area. It made it seem more possible. But then, that's tough, honestly, I mean, nobody I knew played golf."
Article continues below advertisement
Cheyenne says she grew up surrounded primarily by white and Mexican children, and that while her middle-class childhood was happy it didn't offer a lot of opportunities to be around girls who looked like her or who enjoyed the game. After-school golf programs filled in the blanks, and it was in one of these that she started making friends.
"I had two best friends I found in golf programs, both mixed-race girls. We were drawn to each other, the only three brown girls in these programs. We became best friends. Nobody else played golf that looked like us in the State of Arizona."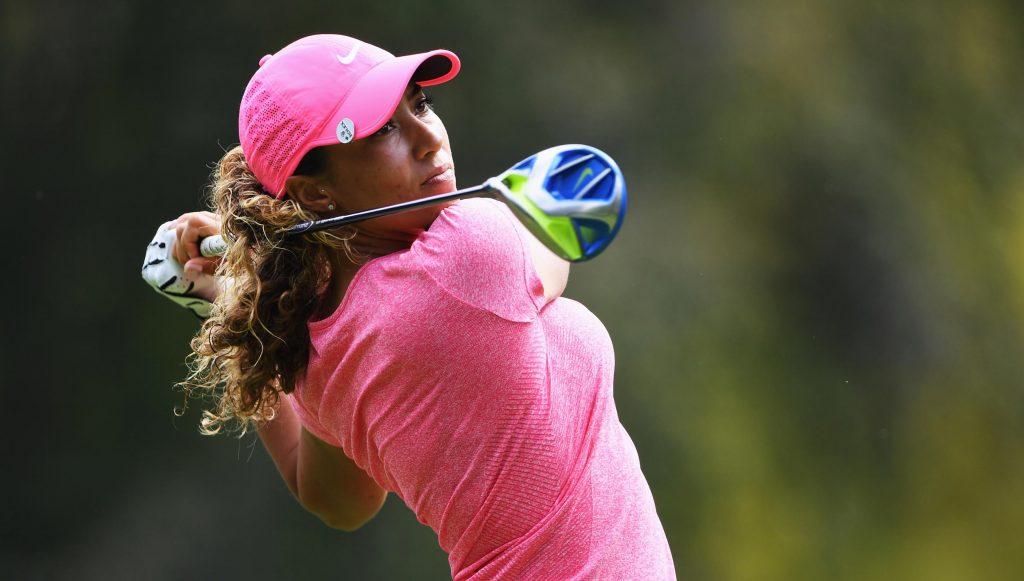 Article continues below advertisement
"I didn't know so many black people played golf! Where have they been?! On the junior circuit you don't see anybody out there who looks like you. On the LPGA Tour there wasn't anybody who looked like us."
-
It's not fun sometimes. I definitely had good friends who were not mixed, not black, but there's that special bond of having somebody you can relate to in a sport. Running track and dance and all of these social sports, you have a team, you have a group of people. And then you have golf where you're an individual. You feel alone out there sometimes."
With 30 amateur wins behind her, she qualified for that year's U.S. Women's Open, made her pro debut at the 2012 LPGA Championship, and took her first professional victory on the SunCoast Ladies Series. The following year she joined the Ladies European Tour, eventually earning her second pro win at the 2014 Volvik RACV Ladies Masters, a tournament that was an LPGA event from 1997 to 2000. She also racked up the frequent flier miles, did a lot of soul searching and gained a lot of experience, as much off course as on.
Article continues below advertisement
"When I played in the Founders Cup, a friend caddied for me and she was watching me sign autographs. She said,
"You're different with the fans, it's not bad, it's just funny to see. I'm used to best friend talk, to your saying inappropriate things.' And you can't necessarily be like that."
-
Article continues below advertisement
It's hard as an athlete or a public feature to be your true authentic self. It's something I'm always trying to work on and something I've been aware of, especially when it comes to interviews and social media and speaking on things you believe in."
In addition to her celebrity athlete status, Cheyenne considers the weight of her position as a black woman on Tour, saying that, "maybe I am presenting more than just myself, representing more than just a player out here, because there aren't many black women in golf. I kind of represent those who have been there, and you have to be careful what you do, how you present yourself. You want to be authentic but you don't ever want to be a bad influence. I definitely value having little girls look up to me. But also, I think that being an inspiration is being your true self. I try to find the balance."
The times are perhaps particularly difficult for African American celebrities and athletes to navigate, considering current events and media surrounding various police shootings of black men, the rise of groups like Black Lives Matter and the increased profile of black athletes speaking out. NFL quarterback Colin Kaepernick's "take a knee" national anthem protest has garnered international attention, and tennis great Serena Williams recently entered the conversation when she shared her fears of police with regard to her 18-year-old nephew in an "I will not be silent" message on Facebook. Imagining such a protest in golf is nearly impossible, if for no other reason than for the scarcity of African Americans on Tour.
Article continues below advertisement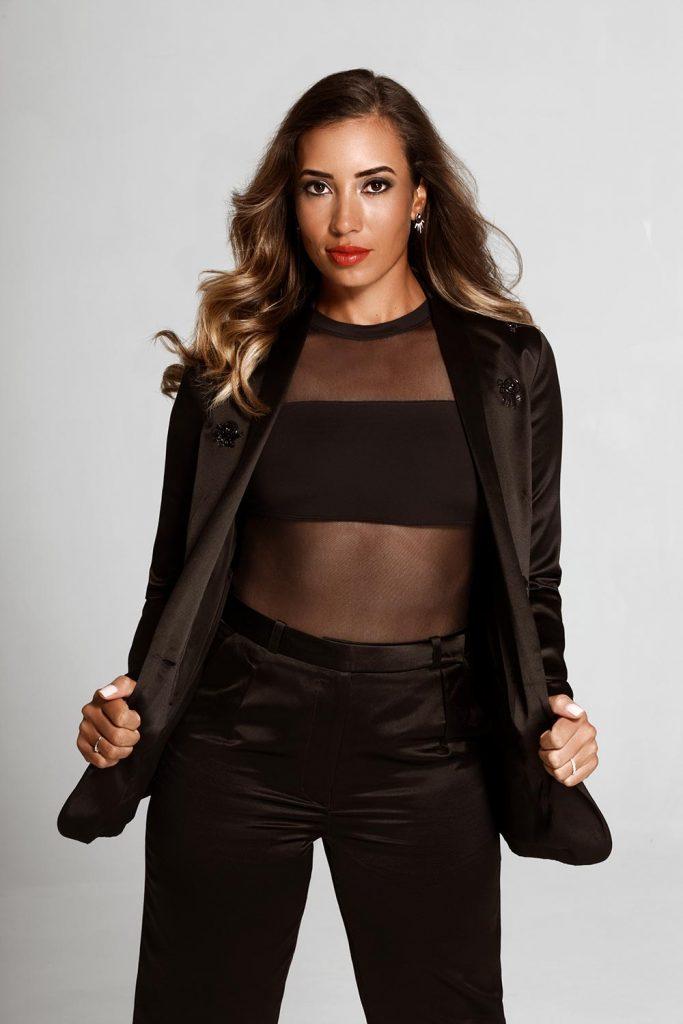 "It is, yeah, it is tough. At the end of the day these are human beings that obviously are not being treated fairly or humanely. I do feel strongly about the issues, especially having a black father and black cousins. These men out here, they look similar, you can't help but compare situations, to relate to these situations. It is scary and it is really a topic that I feel is important.
"I haven't spoken out on social media about it, but I definitely do support Black Lives Matter, and everything going on with Colin, how courageous he's been to start this movement within the athletic realm.
Article continues below advertisement
"For my part, I believe in promoting positive images and showing what I'm doing out on the golf course. Spread positive energy and love everywhere."
-
This summer, at the Cambia Portland Classic, for the first time in its 66-year history, four African American women played on Tour at the same time. It was an historic moment, and yet when Cheyenne sought to spread positive energy around it, there were detractors.
"We had five African American women: four LPGA and one sponsor invite," she remembers. "It was history. I thought it was the coolest thing ever and I was so proud of these girls. I get goose bumps now.
I thought it was a big deal, and I remember posting it on social media, but people don't want to see you promoting things like that. I got so many comments: 'Why does it always have to be a black and white thing?' It's amazing. People didn't want me to refer to us as black or point out that these women were doing something awesome. You're always going to have people say things like that, but at the end of the day it doesn't necessarily matter. It's so much bigger than people who hide behind their computers."
Article continues below advertisement
There are struggles beyond race, of course, frustrations common to too many pro female athletes that involve men and pro-am partners who like to cross lines when posing for photos, for example.
"Maybe they sometimes grab around the side a little tighter than you would like. I've had a little of that, nothing too extreme," she says. "The most shocking experience I had was at the Evian pro am. An older man who was making jokes all the time. French people are kind of cheeky, I guess, but every time I would make a birdie he would come in for a kiss. I'd make birdie, he'd say, 'You know what that means!' and then he'd run toward me and kiss me on the cheek. It started on the very first hole: 'You know what that means!' doing a kissy face and running. I tried to laugh it off and tried to get away from it.
"In the tournament he came out to watch me play. I had pants on, and I'd had a skirt on in the pro-am.
He said, 'The skirt in the pro-am was a great idea,' and pointed at my pants. Is that because you want to look at my legs or what? Stuff like that. I'm not going to give an excuse for him being French or an old man, but I doubt the men on the PGA TOUR deal with that."
All of that considered, though—the challenges that come with being African American, with being a woman and with the looming specter of the mint chocolate chip trying to derail her otherwise strict regimen of nutrition and fitness—Cheyenne is contagiously positive, optimistic and inspiring. She took the LPGA's Most Elegant Player award at this year's Evian, voted on by fans and media, and after having the genuine pleasure of spending a day with her (albeit in an unconventionally decorated photo studio) I can assure you that the award was well deserved. More than just her outward beauty, she seems to possess the kind of inner light that can illuminate further than one can readily see. How far it will reach has yet to be determined, but she has time, and she's already gotten started.
Article continues below advertisement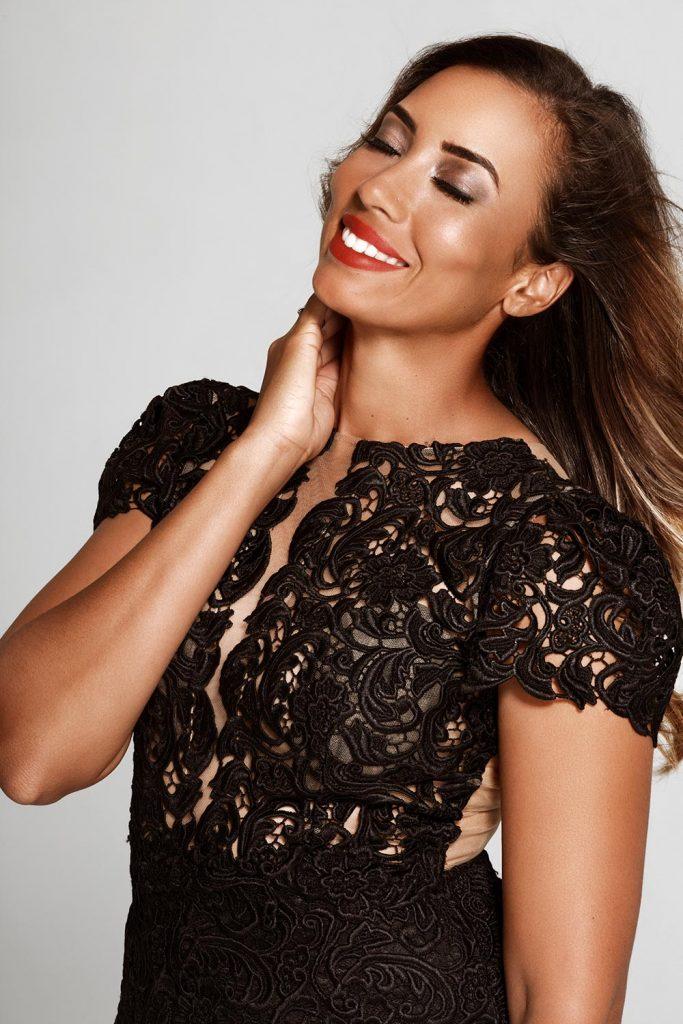 "Recently I started talking to elementary school kids about believing in your dreams, that not everybody comes from the wealthy families where you're going to have that easy road to success. No matter what your story is, your background, you're able to achieve what you want as long as you believe in yourself and work hard.
"It's something that I'm definitely aware of because, looking back, yeah I had the last name of Woods, but to get to where I am was never expected, never automatic. It wasn't easy, and so looking back, when I was young and looking at LPGA players—they're so cool!—I felt so far removed from them, but it was something I wanted to do.
"I know what it feels like to be that little girl and maybe not think that you can play golf, and so when I see a little girl I tell her how beautiful she is, compliment her somehow, boost her self esteem, her confidence. And if she plays golf: 'Keep it up! Good job!' I give her a ball. I'm aware of what a difference it can make."