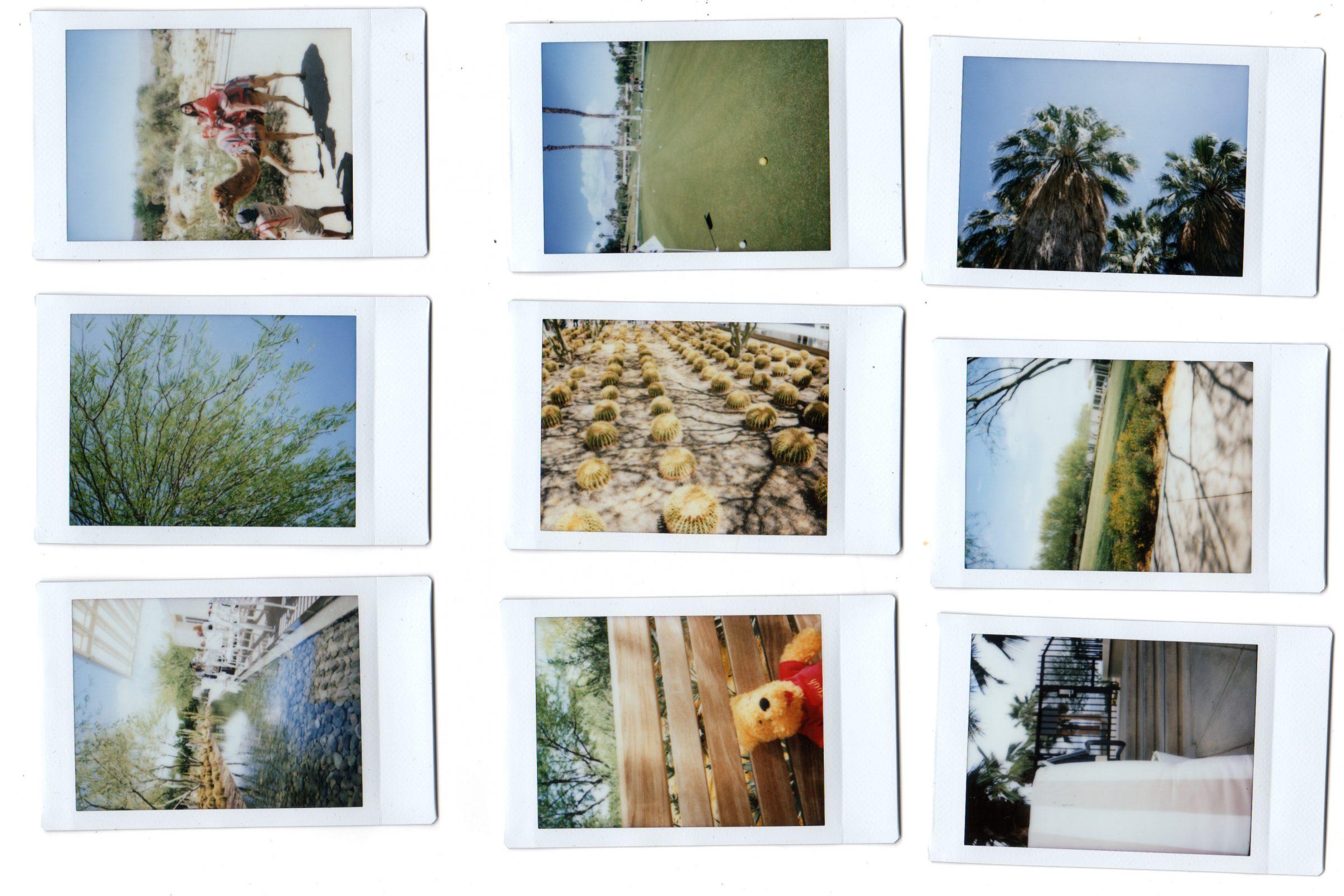 Palm Springs Weekend Golfing Getaway
ARRIVAL
The car is packed, overpacked in fact, and my three-year-old is strapped into her car seat. Incredibly, we're going to be on time to pick up my husband Reade at the airport—we might even be early. But then no, Los Angeles has other plans. A closed lane on the highway, and so we're stuck in gridlock for miles. We end up two hours late to LAX, and that puts us in rush hour traffic out of the city, crawling out of the madness with everyone else.
Article continues below advertisement
The normally manageable three-hour drive to Palm Springs will be a much longer ordeal now, and those with children will understand the difference an hour or two can make to the joy of a journey. My daughter Beatrix is not pleased at the delay, and she's not shy about sharing her pain. We finally see the colossal white windmills on the horizon—seven hours into our three-hour journey—we both exhale. I feel the knots between my shoulder blades loosen ever so slightly.
"The town was built by women, mostly."
Nellie Coffman and her husband opened the first hotel, The Desert Inn, in 1909. Cornelia White and her sisters Florilla and Isabel, ran the second, The Palm Springs Hotel. Zaddie Bunker came in 1914 and opened a garage, a series of cottages and Palm Springs' first movie theater. (She also took up flying at the age of 60 and piloted a jet past the speed of sound, becoming one of the first women to do so). Vassar graduate Harriet Cody opened riding stables here in 1916, Pearl McManus built the first apartments, Ruth Hardy built the infamous Ingleside Inn, and there were plenty more.
Golf came in 1926 and quickly grew, and today Palms Springs is the most golf-dense area in the West, with epic properties like the Arnold Palmer-designed Classic Club setting the bar for the desert game. But golf is just one of the reasons I was here.
Article continues below advertisement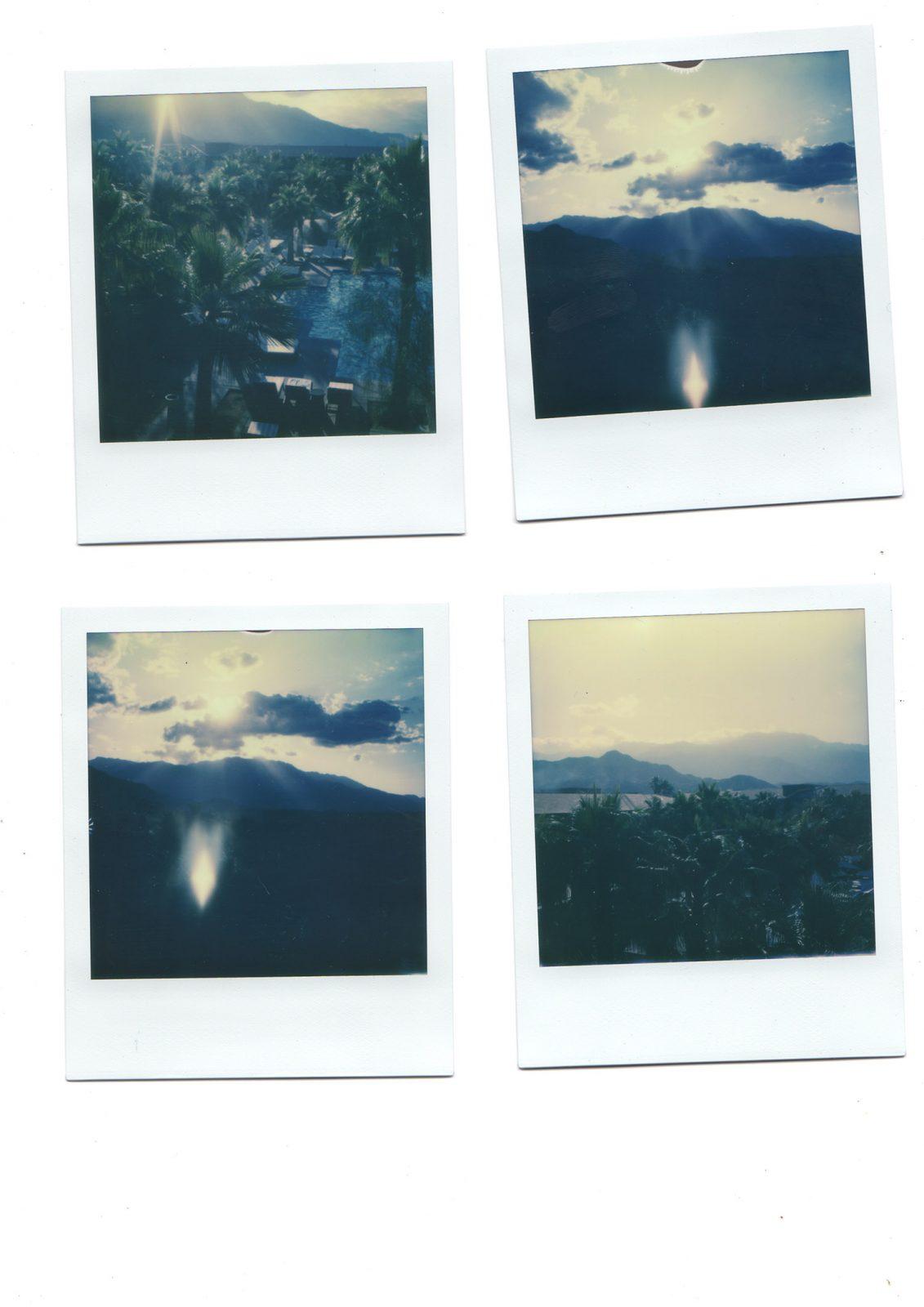 SUNNYLANDS
Completed in 1966 by renowned philanthropists Walter and Leonore Annenberg, the Sunnylands estate sits on 200 acres that include a main residence and guest cottages, a private nine-hole golf course, 11 lakes, a tennis court and a swimming pool. House tours require a reservation, and I didn't realize how popular the tour would be. When I tried to get a space a few weeks before our trip, there was no availability. As a fan of Midcentury architecture, I was sad to miss Sunnylands.
On our second day in Palm Springs, I checked in with the property and was delighted to find that a single space on the tour had opened up for the next morning. I snagged it, and soon I was waving goodbye to Reade and Beatrix at the visitor center and sitting on the shuttle with a few lucky others headed to the legendary estate.
Article continues below advertisement
Before her death in 2009, Leonore set aside 15 acres adjacent to the estate for the visitor center and gardens, which is open to the public and free of charge. The gardens, designed by landscape architect James Burnett and inspired by Vincent van Gogh's 1889 painting Olive Trees, are filled with native and drought-tolerant plants that reflect Leonore's vision of environmental sensitivity.
Called "Camp David of the West," Sunnylands and the Annenbergs played host to some of the most important history-makers of the last 50 years. Queen Elizabeth II; Presidents Eisenhower, Nixon, Ford, H.W. Bush and W. Bush; Ronald and Nancy Reagan (who joined the Annenbergs for New Years Eve 18 years running); Bill and Hillary Clinton; The Shah of Iran; Margaret Thatcher; Frank Sinatra; Bob Hope; Arnold Palmer; Truman Capote—and the list goes on and on. President Obama has visited, as has Condoleeza Rice and Sandra Day O'Connor, and we were told a delegation from the Chinese government was arriving shortly after our visit.
The Annenbergs built a vast collection of art as well, which they displayed in their home. Chinese porcelain, Steuben glass, works by Harry Bertoia, Pablo Picasso, Andrew Wyeth, and more. Over the years, they also acquired one of the largest collections of Post-Impressionist paintings in the world. Paintings by Renoir, Degas, Monet, Gauguin and van Gogh used to hang at Sunnylands much the same as family photos hang on most people's walls. The collection, valued at more than $1 billion, was donated to New York City's Metropolitan Museum of Art in one of the single largest gifts to any museum ever.
Inside the 25,000 square-foot compound designed by acclaimed architect A. Quincy Jones, I was breathing rare air, and I was absolutely giddy. Everything in the house is as the Annenbergs left it. It was their favorite place, and you can feel that it was walking through the halls. The people living there just stepped into another room for a moment, that they'll be right back.
Article continues below advertisement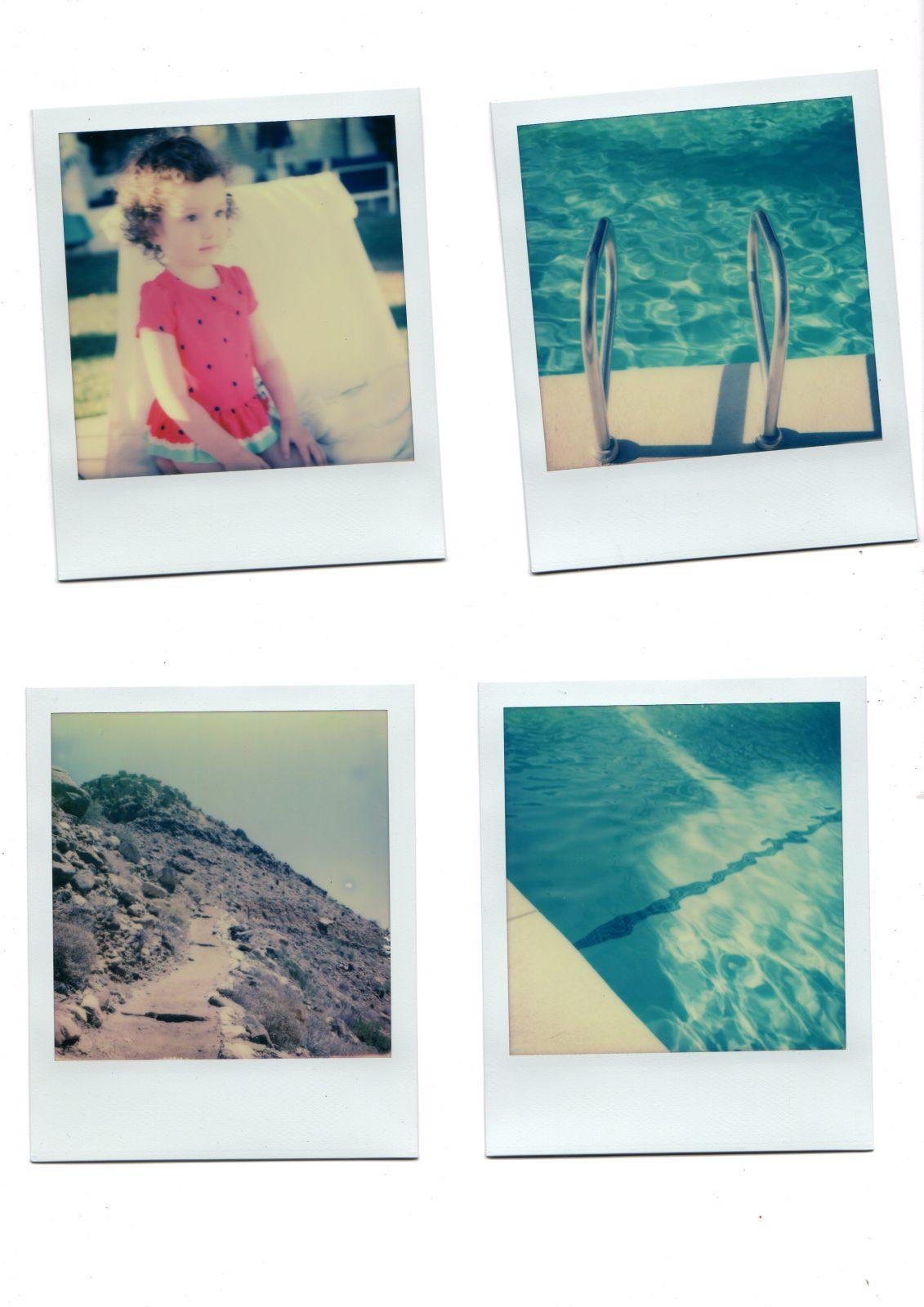 OASIS
I've been coming to Palm Springs since I was a child. It's an easy family getaway from Los Angeles and it offers a lot for everyone to do. This time, for the first time, I wanted to see where it all started; I wanted to see the springs themselves. There's evidence that the ancestors of the Native Agua Caliente Cahuilla, who still live in the area, built irrigation ditches in pre-Columbian times. Some anthropologists speculate that there have been people in this canyon for more than 2,000 years, and when you come upon it it's like something out of a movie, a green world tucked into a red and gold landscape.
Article continues below advertisement
The dirt path down to the oasis is quick, steep and narrow, with no handrail. Beatrix insisted on going it alone. I insisted that she hold my hand. As we descended into Palm Canyon, the parched land transformed into a palm paradise of magnificent, monumental palm trees with small sparkling springs spouting at their base, delivering water into to trickling streams that run into the shadows.
There are green grasses and tadpoles and fish in the creek. The picnic tables in the palm grove made me wish I'd brought lunch; you could sit and just be still for hours watching the breeze tickle the fronds and listening to the miraculous, clear water bubbling up out of such a thirsty piece of earth. Calm. So perfectly calm, entering the canyon was like walking into a glowy old Polaroid picture full of soft edges and space and time.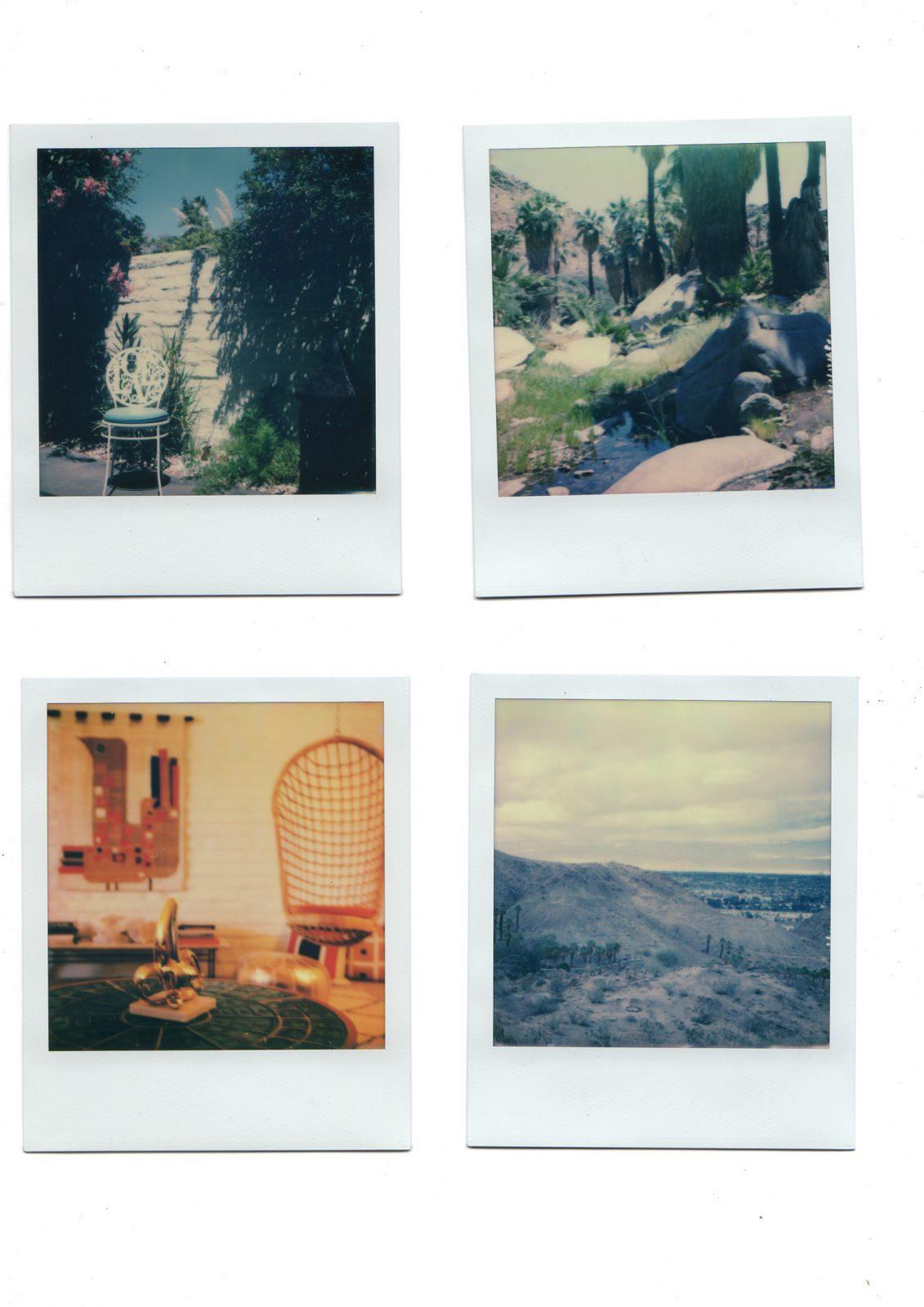 Article continues below advertisement
TARA
Rain in the desert is one of my absolute favorite smells. It's the earthy smell of warm dirt and hot rocks and plants that are happy—elated even—to have water, even if it's only a drizzle. Rain in the desert is a special event, and so it was fitting that it was drizzling the afternoon I met Tara Lazar. Tara is a force.
"Cheeky's, opened in 2008, is one of Palm Springs' most popular breakfast spots for locals, and her Italian-inspired Birba is loved as well."
"People are always coming here and talking about a 'Renaissance,' that the desert is 'reinventing' itself again," Tara says. "The locals just laugh at that. Things have always been happening here, new restaurants opening, new things happening all the time. It's constant." The bold and colorful store on the edge of town from city legend Trina Turk, which I only recently visited for the first time. The fun Gyoro-Gyoro Japanese restaurant, with one location in Palm Springs—and 155 locations in Tokyo.
My husband and I enjoy a Rat Pack-style dinner here, and have as much fun in the restaurant's speakeasy bar, Seymour's, named for Lazar's father. Time stops in Mr. Lyon's, and with a decor that's as much Deco as it is future desert modern, it's impossible to know which decade you'll find when you walk outside, never mind what shade the sky will be.
Article continues below advertisement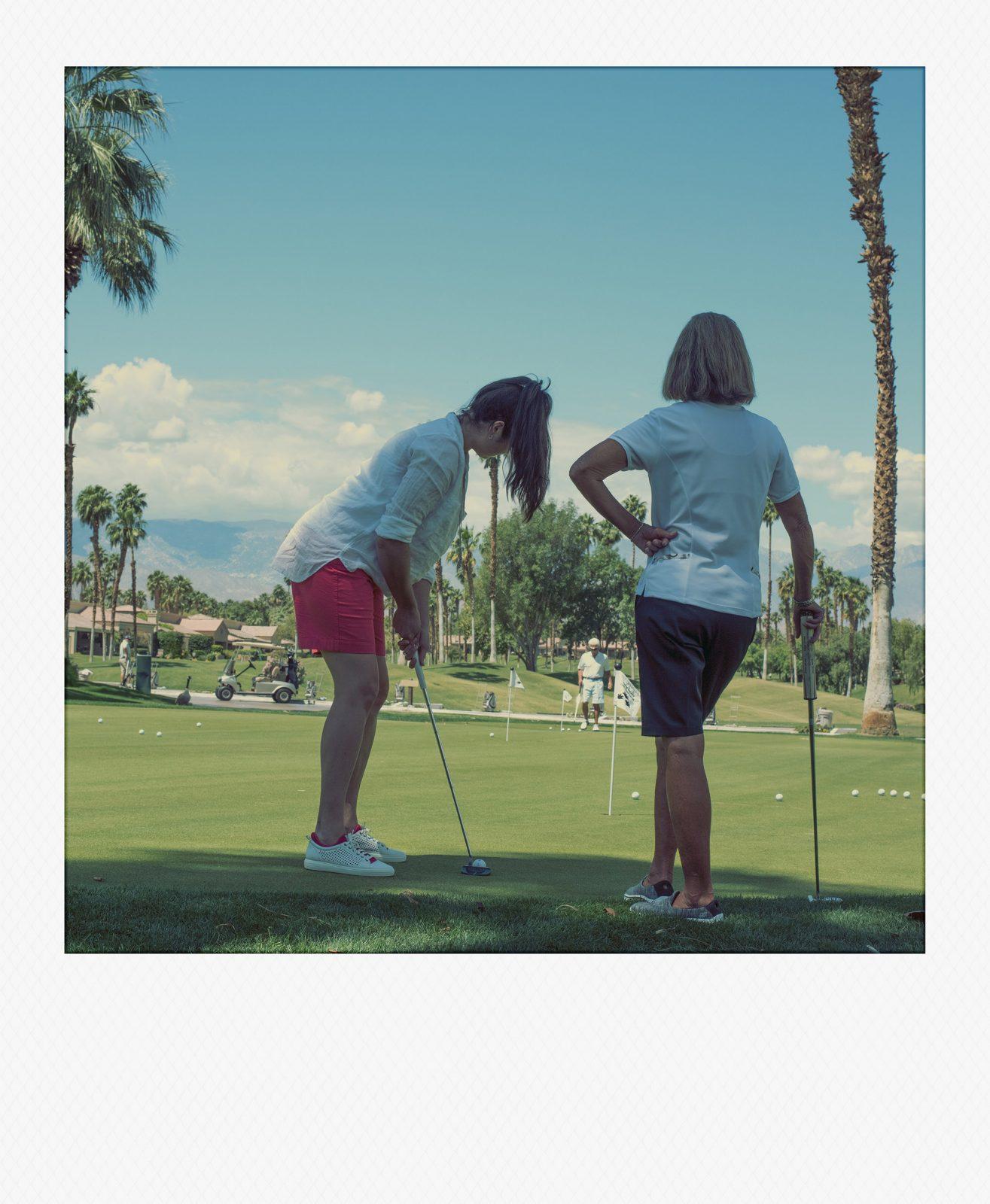 BOBBI
Former LPGA player and now golf pro Bobbi Salmon is yet another example of desert magic. She picked up a golf club for the first time at the age of 24 and shot an 85. Self-taught, her aim with her students is to simplify things and to focus on the mind game, more specifically the subconscious mind game, rather than form—although she did switch my putting grip to left-hand low, which was a game-changer for me.
With more than 30 years of experience as a touring player and golf instructor, and having competed in four British Opens, two U.S. Opens, two LPGA Championships and, most recently, on the LPGA Legends Tour, Bobbi has a deep vault of knowledge from which to draw, and she bringsthat wisdom to her teaching. She alsoinvented the Steadihead, a wearable putting training aid with a laser on it—yes a laser. And it works.
Article continues below advertisement
I had never taken a putting lesson before. It was a part of the game that I figured if I just kept practicing, eventually it would improve. That strategy hadn't been working as well as I'd hoped, so I scheduled a morning session with Bobbi at Palm Valley Country Club. It was hot and there was a large swan on the putting green—an elegant audience and the only other witness (besides my husband) to what was about to happen.
"She had me putt a few times and I missed each one. Then she had me try a left-hand low grip. Better. Then she put the Steadihead on me."
The Steadihead is like a pair of sport sunglasses without lenses and a laser between the eyes. When I look down at the ball I'm going to putt, the laser should point right in the center and not move. This keeps my head directly over the ball, and trying to keep the laser dot from moving off the ball compels me to keep my head still. Then she has me move my head back and forth to draw a line with the laser on the green, a line from the center of the ball to the hole. Then she has me hit the ball. I didn't give it enough power and my first shot didn't make it to the hole, but it was on a perfect path. I hit another ball, and this one went in.
She had me putt with my eyes closed, and each putt stopped very, very close to the hole. And then, towards the end of the lesson, it happened: I made the longest putt that I have ever made. It was 35 feet, slightly downhill with two feet of break. My husband saw it go in, and his reaction was as ecstatic as mine. I told her it was magic, that there's no way I actually could have made that putt—I am not good enough to make putts like that! But in her kind, steady voice, she told me it was no fluke and that I should do it again. I set up to the ball, remembered what she told me, and—incredibly to me—I did it. Magic that you have to believe is real, because it is. That's Palm Springs.