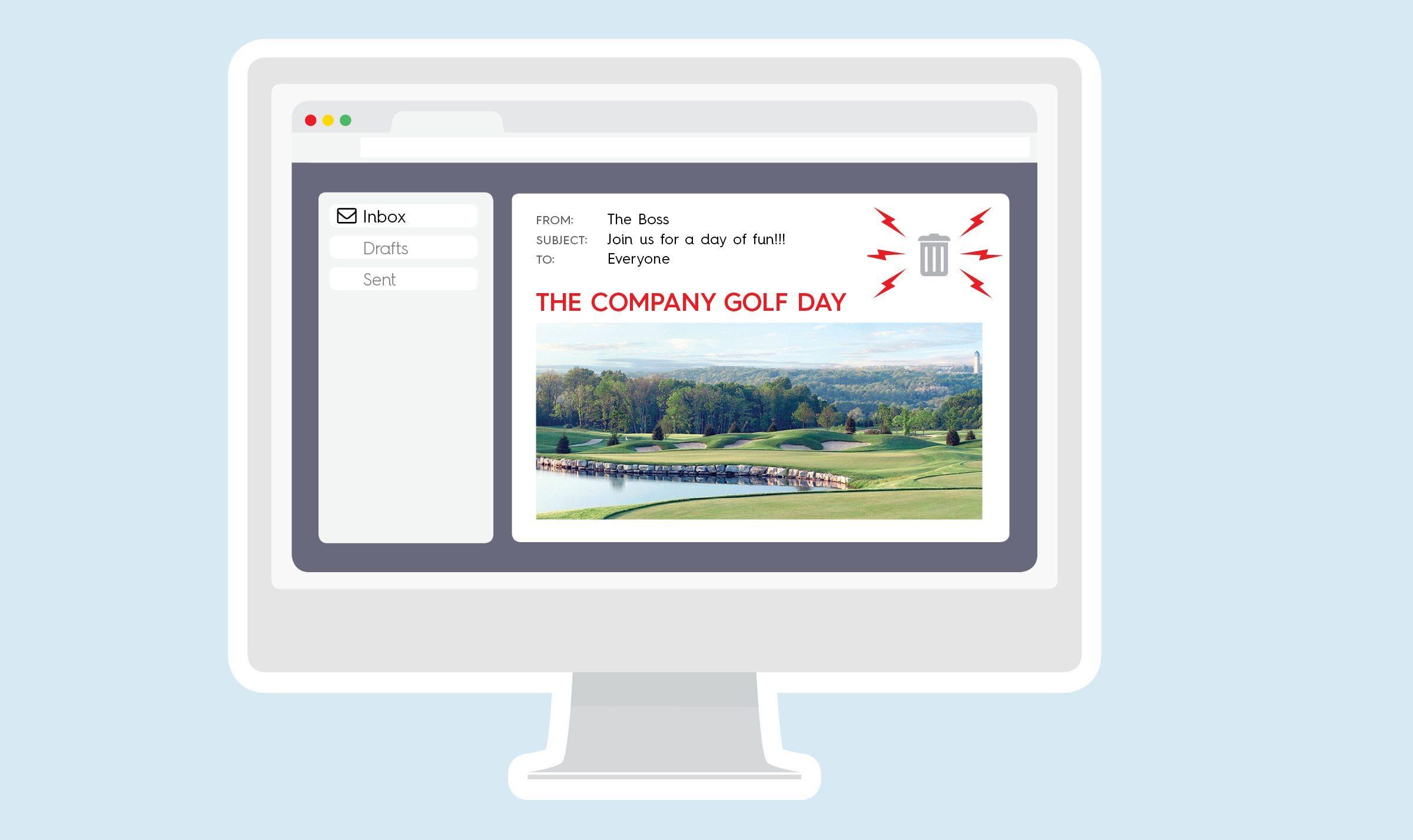 How To Conquer Company Golf Day
For some it's a joyous announcement, for others it's the most dreaded email of the year: the invitation to the company golf day. Whether or not you golf well—or at all—we have two executives here to explain why you're going to next year's event:
Article continues below advertisement
She says…
Carla Harris
Vice Chairman, Global Wealth Management, Managing Director and Senior Client Advisor at Morgan Stanley
If you are invited to the company golf day and you don't know how to play golf, make sure that you learn how to take score and that you brush up on the rules. Then, offer to be the "fourth" in one of the groups that might be short of a person and ride along to keep score. Make sure that you are always upbeat and cheering each of the golfers along with encouraging comments like: "great drive", "excellent putt," "terrific chip." Try to ride with someone who is not too serious about his or her game, because you don't want to be a distraction. Make sure that you dress in proper golf attire, so that you blend in with everyone else. This is NOT the time for you to learn how to play or to get tips from someone who is golfing that day. Your goal is to spend time with everyone else in the company, show a genuine interest in being there and in being a part of the activity.
If there is not an opportunity for you to ride with one of the groups, then make sure to show up early and to mingle, have breakfast or chat with your colleagues. You might hand out golf balls or towels, or whatever goodies will be distributed to the group that is playing. Make sure to mention that while you don't play yet, you are interested in learning and "look forward to playing in next year's outing." Halfway through the round, you might ride around, handing out new sleeves of balls or waters to check in on everyone. Later, you can meet everyone after the round for drinks and to discuss their rounds and how they enjoyed the day. The conversations will at first revolve around golf itself, but within a half hour or so the talk will digress to other topics, which you can readily discuss on equal footing.
Article continues below advertisement
He says…
Sam Abdelnour
Vice President Sales, North American Region, Whirlpool Corporation
Even if you've never picked up a club, my advice is: go. By attending, you are sending a message that you want to be part of the team. If you lack a golfing resume, it's OK to be upfront about it. In golf, the best player can easily play with a less experienced player; it's not about matching skill levels. Do your homework, get a basic understanding of the game. If you aren't sure what to wear, khakis and a polo shirt are a safe way to go. It's perfectly appropriate to talk business under the right circumstances, but it's always a good idea to let your boss or customer initiate the discussion. It's not necessarily the best time and place to ask for a promotion or raise a work issue. If you are in a position to host a company golf event, know that it's an excellent way to bring people together and build camaraderie. We find millennials, in particular, tend to be enthusiastic about attending these kinds of events—they thrive on being social and active. Regardless of where you fall on the spectrum or if playing golf is just not for you—go anyway.
Remember: the objective for these types of outings is relationship-building and networking. It is really not about assessing who is the best or the worst golfer at the company. Therefore, the goal is for you to be "in the flow." Be part of the action, spend time talking with your colleagues and interacting with them; your bosses will perceive that you are indeed there to "play."
What to do: Be social, be engaged, show interest and a willingness to participate, even if you don't golf.
What not to do: Let your fear of company golf event unknowns keep you from claiming your spot in the next foursome.