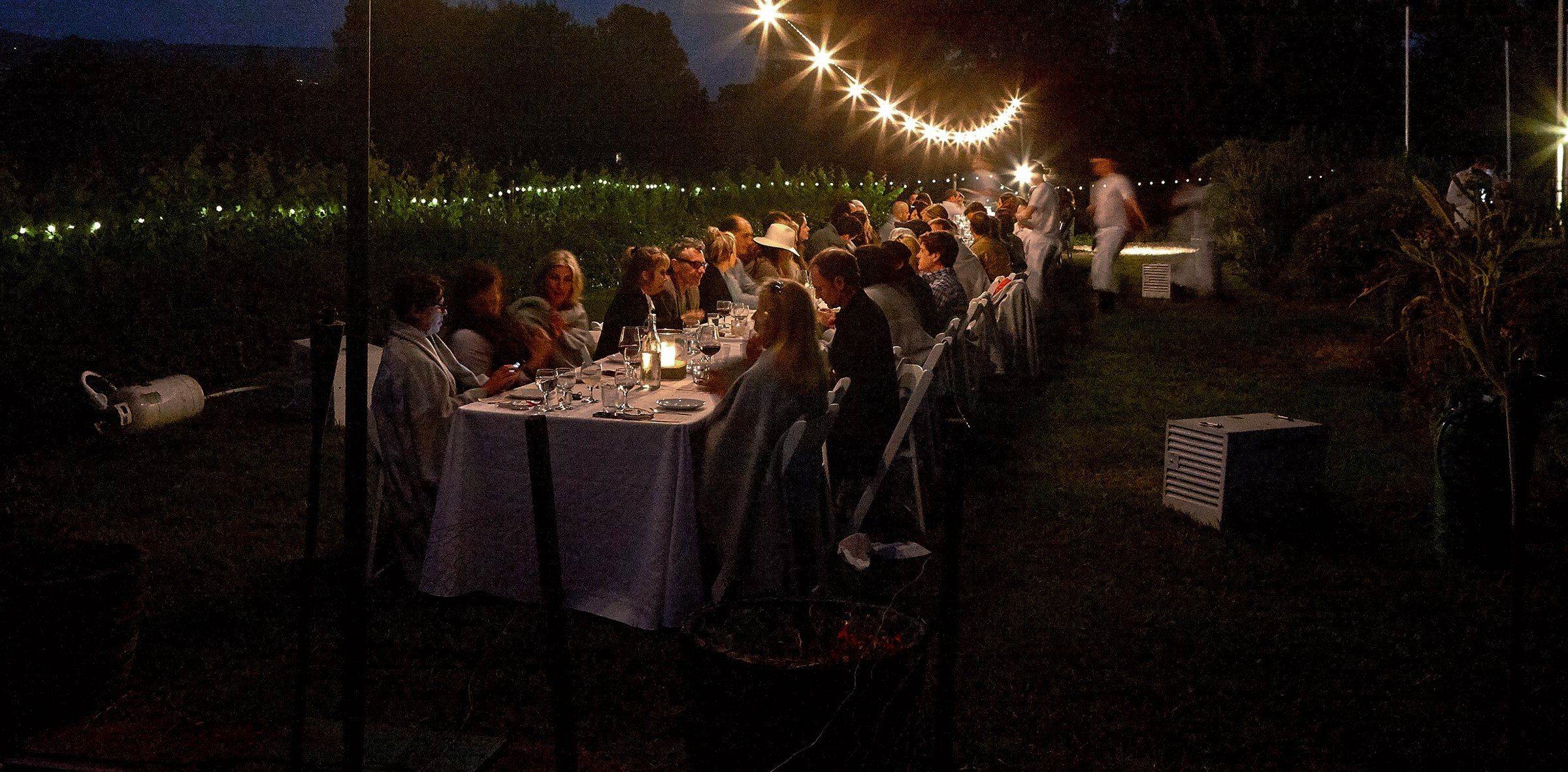 California Holiday Table
Our informal poll (we wore jeans and a T-shirt) found that more than a few holiday staples are tolerated rather than enjoyed, with green bean casserole being particularly despised. While we're fond of tradition, times and tastes change and so we started wondering what a modern holiday spread might look like. For help, we turned to Helene Henderson, owner of Malibu Farm Cafe and Restaurant and, fantastically, an actual farm in Malibu with chickens and a pig and everything. Originally from Sweden, Helene married into the annual turkey + sweet potatoes + stuffing ritual and, while she admits that she loves the celebration, her farm-to-table fresh, organic, healthy ethos didn't appreciate the tried-and-true bowls of bloated beige foods that Americans dust off each autumn. In hopes of freshening the season's culinary spirits, she spared a few minutes to sit down with us and plan a holiday meal that will not only leave room for dessert, but will leave everyone feeling great, guilt-free and ready to go back for seconds. Or is it thirds? No matter. These recipes, sourced from her excellent Malibu Farm Cookbook (visit malibu-farm.com for more info), provide a perfect template for holiday happiness. Try them yourself, and next time you're in Malibu be sure to try Helene's cuisine first-hand. Just don't expect any green bean casserole.
Article continues below advertisement
Turkey Breast Stuffed With Leeks
Sometimes it doesn't make sense to cook a whole turkey, and anyway do you really want three weeks of turkey sandwich leftovers?
Makes 4 to 6 servings
1 whole or half turkey breast (either can be flattened and rolled) skin on, lightly seasoned with salt on both sides
2 leeks, rinsed and sliced
2 garlic cloves, thinly sliced
2 tbsp butter
½ cup chopped parsley
2 cups fresh bread crumbs
Special equipment: kitchen stringFor sautéing the rolled turkey breast: olive oil
You really need to have a skin-on turkey breast for this to work. I don't recommend using a skinless breast. The breast is going to be pretty thick, so you need to cut it three-quarters of the way through to split it open in half and make it half as thick as it was originally. Then you still need to place it between plastic wrap and pound it a little more.
Sauté the leeks and the garlic in the butter on low heat until translucent. Stir in the parsley and the fresh bread crumbs, and cook for another few minutes or until the fresh bread crumbs are getting slightly toasted. Season lightly with salt.
Place the turkey with the skin side down on a piece of plastic wrap, skin side on the far end (facing away from you). Spread the bread crumb mixture over the turkey, and then start to roll it up as tightly as you can, ending with the turkey skin covering the exterior portion of the roll. Tie it with kitchen string to make sure it holds together.
Sear the turkey breast roll on all sides in olive oil, browning and crisping the skin for a few minutes. The roll can be made in advance up to this point and kept in the fridge until needed. If you are ready to cook it, place it in a preheated 375˚F oven for 30 to 40 minutes or until it reaches an internal temperature of 170 degrees. Let it rest for 5 minutes, and then slice it really thin and serve with super thin turkey gravy (next recipe).
Article continues below advertisement
Super-Thin Turkey Gravy
Makes 3 cups
2 cups sliced button mushrooms
2 tbsp olive oil
3 cups turkey stock (homemade or purchased)
½ lemon, juiced
1 tbsp fine-choped shallot
3 tbsp creme fraiche
1 tbsp pink peppercorns
2 tbsp chopped chives
Optional: Turkey drippings, if available
In a large heated skillet, cook the mushrooms in the olive oil for about 3 minutes or until just beginning to brown. Add shallot. Season lightly with salt and add the stock. Bring to a boil, reduce to a simmer, and allow to simmer for 5 minutes. Add lemon juice. Whisk in the creme fraiche, pink peppercorns and chives. If available, whisk in the turkey drippings. This gravy can be made a day in advance.
Saffron Israeli Couscous with Corn and Sugar Snap Peas
This fragrant and colorful dish is a fresh alternative to stuffing
Makes 6 servings
1 box Israeli (large-grain) couscous
6 cups chicken stock, vegetable stock or water
Pinch of saffron
3 ears of super-fresh sweet corn kernels, scraped from the cob
2 tbsp butter
1 tbsp olive oil
Additional 3 tbsp olive oil
1 clove garlic, grated
juice and zest of 1 lemon
2 cups sugar snap peas, flash blanched and sliced thin
1 bunch parsley, chopped
Article continues below advertisement
Cook the large-grain couscous in stock or water and a pinch of saffron, per the package instructions. (If the couscous you bought came with a seasoning packet, throw it away. There is no purpose for its existence.)
Cook the corn in butter and the 1 tbsp of olive oil for a few minutes, until it is just beginning to brown. Season to taste with salt and pepper.
Transfer the couscous to a bowl, season with the 3 tbsp of olive oil, garlic, lemon juice and zest, and additional salt and pepper. Stir in the cooked corn, blanched sugar snap peas and parsley. Taste for seasoning and add more lemon juice if needed because there is no such thing as too much lemon.
Serve hot or at room temperature.
Spicy Honey Sweet Potatoes & Pomegranate
A beautiful twist on tradition, with a little kick
Makes 6 servings
2 large russet potatoes, peeled, chopped, cooked in salted water until soft, drained, and then re-heated on the stovetop for a few minutes to cook away excess water
1 stick butter
½ cup heavy cream
4 large sweet potatoes, baked with the skin on until soft
Chili sauce (or sriracha, Tabasco, smoky habanero sauce or some combination) to taste
½ cup honey or maple syrup, divided in half
½ cup pomegranate seeds
2 tbsp chopped parsley
Article continues below advertisement
First, we need to mash the russet potatoes. Push them through a ricer into the bowl of an electric mixer, and then add butter and cream. Season to taste with salt. Now you have small mound of regular mashed potatoes, to which you are going to add the sweet potatoes.
Peel the sweet potatoes and scoop out the soft flesh into the mashed potato mixture.
Add hot sauce to taste, and half of the honey or maple syrup.
Combine the rest of the honey or maple syrup with pomegranate seeds and chopped parsley.
Transfer the potato mixture into a serving bowl. Right before serving, pour the honey-pomegranate mixture over it.
This dish can be made several days ahead and heated in the microwave. Or cover it and place it in a 350˚F oven until heated through, about 10 minutes.
Raw Brussels Sprouts with Almonds and Grainy Mustard
If you think you don't like brussels sprouts, try them raw—and this dish is a perfect opportunity. You'll need a mandoline for this…
Makes 6 servings
2 tbsp whole-grain mustard
1 lemon, juiced
4 tbsp olive oil
1 clove garlic, grated
8 large Brussels sprouts, sliced super thin on the mandoline
½ cup chopped parsley
½ cup toasted almonds
Combine mustard, lemon juice, olive oil and garlic in a bowl.
Season sliced Brussels sprouts with salt, and toss with the dressing. The sprouts should not be dry; if they are, add more olive oil or another squeeze of lemon juice. Toss in the chopped parsley and toasted, sliced almonds.
Article continues below advertisement
Creamy Potato and Green Tomato Gratin
Making the gratin half-tomato lightens it considerably from the full-potato staple, and this is a great use for early green tomatoes (but reds work too)
Makes 4 servings
½ cup heavy cream
1 clove garlic, grated
1 tbsp chopped rosemary
2 tbsp grated Parmesan cheese
2 large russet potatoes, sliced thin
2 large tomatoes, sliced thin
In a bowl, mix together heavy cream, garlic, rosemary, and Parmesan cheese.
Toss the sliced potatoes with the cream mixture, and season lightly with salt (about ¼ tsp).
Place in the bottom of a decorative ovenproof gratin dish.
Arrange the tomatoes on top of the potatoes and sprinkle lightly with salt.
OK, please don't tell, but we are going to cheat:
Put it into the microwave for 4 minutes. This is really going to speed up the process.
Then finish in the oven at 400˚F for 20 minutes. You can bake the dish without using the microwave, but you will need to cover it and bake at a lower temperature (350˚F) to cook the potatoes through without burning.
Article continues below advertisement
Parsnip-Potato Latkes
Make them the night before and serve as a pre-feast breakfast treat
Makes 8 servings
2 large russet potatoes, peeled
2 large parsnips, peeled
½ lemon, juiced
A little flour, about 2 tbsp
For cooking: A little olive oil
Coarsely grind potatoes and parsnips in a food processor or shred them manually using a grater. Place on a kitchen towel and wring out any juices from the potatoes. Sprinkle with lemon juice to prevent browning. Toss with a little flour to help the potatoes and parsnips stick together and form mini-latkes.
Fry the latkes in a preheated skillet with olive oil until browned for about 1 minute.
Flip and repeat on the opposite side.
Latkes can be made in advance and frozen, which is what I always do for our holiday breakfast. They can go straight from the freezer to a preheated 375˚F oven for 10 minutes or until crispy and hot. Top with creme fraiche and smoked salmon if you like, or your favorite alternative.
Variation:Partially cook the potatoes and the parsnips, and then chill them before grating them and proceeding as above. This gives a slightly softer texture.
Article continues below advertisement
Upside-Down Cherry Cornmeal Goodness Cake
Set this next to the pumpkin pie and you'll have pumpkin pie leftovers the next day
Makes 4 to 6 servings
Cherry Mixture:
2 tbsp butter
2 tbsp agave syrup
2 tbsp pomegranate molasses
5 cups putted cherries
Dry Mixture:
¾ cup flour
⅓ cup cornmeal
Pinch of salt
1½ tsp baking powder
Wet Mixture:
1 stick salted butter
¾ cup sugar
2 eggs
1 tsp vanilla
⅓ cup buttermilk or kefir
In a small (8in) skillet, melt butter with agave and pomegranate molasses. Add cherries, when combined, set the cherry mixture aside.
In a small bowl, stir together flour, cornmeal, salt and baking powder. Set aside the dry mixture.
In a mixer, combine butter and sugar until light and fluffy (about 5 minutes). Add eggs, one at a time, and then vanilla and buttermilk. Once you add the buttermilk, the wet mixture will curdle—not to worry. Add the dry mixture and mix just until combined. Do not over-stir. Pour the combined wet-and-dry mixture over the cherry mixture.
Bake the cake in a 375˚F oven for about 35 minutes or until just baked through and a skewer inserted in the center comes out clean. Let cool for a few minutes, and then turn the cake upside down. Do not let the cake cool completely before releasing from the skillet, as the cherry mixture will become too sticky to release. When the cake is still warm, it will come out more easily.
Serve with whipped cream.