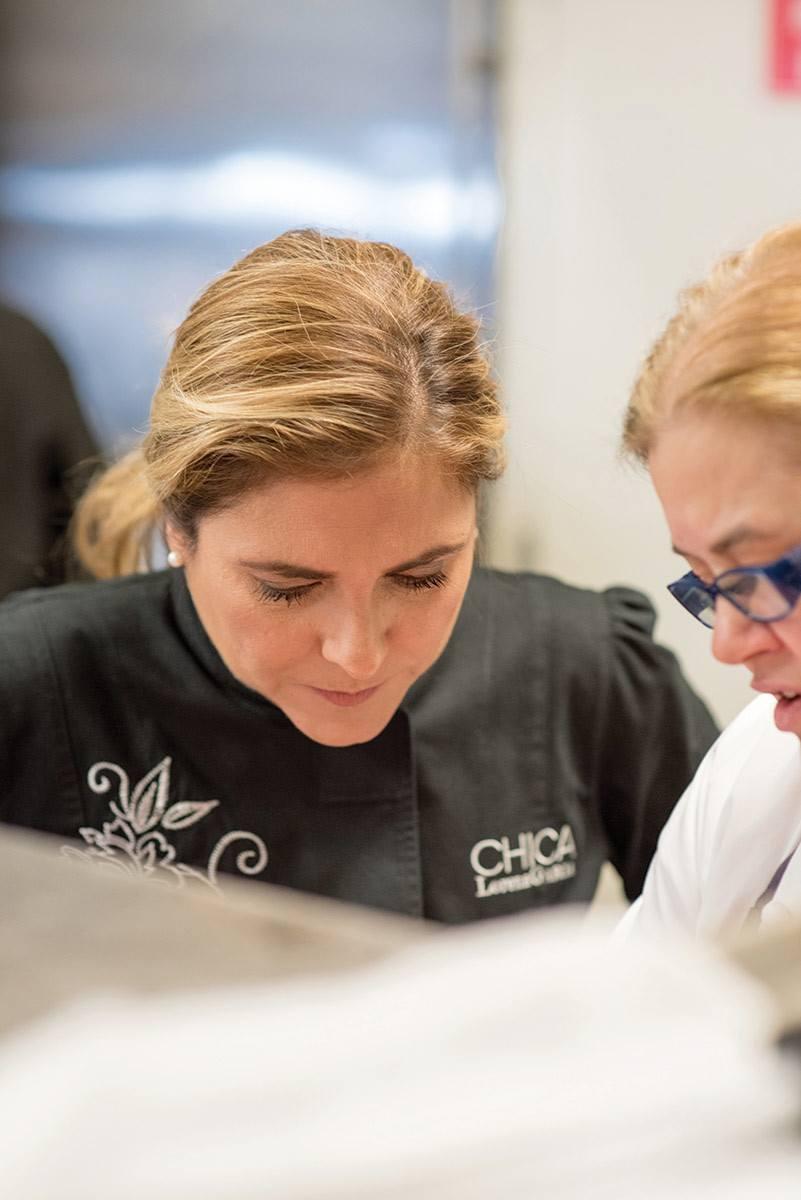 Chef Lorena Garcia
Venezuela might not be the first place that comes to mind when Americans are asked to name great culinary traditions, and yet the country's tables are set very well indeed. Taking a bit of inspiration from here, a little from there, a bit more from over there, and so on, modern Venezuelan cuisine has evolved into an exuberant combination of Spanish, Portuguese, French, Italian and indigenous traditions. One of the country's greatest artists is Chef Lorena Garcia, who owns and operates restaurants in Miami, in Las Vegas and in numerous airports, and who's appeared on Bravo's Top Chef Masters and America's Next Great Restaurant, among other shows.
"I come from a family of attorneys, but I told my family, 'I have to do something that I love. My life is going to pass by," she says over coffee at Chica, her new restaurant at The Venetian in Las Vegas. "My passion was always to cook, and I always say that if you love what you do and it's your job and you get a living out of it, that's the best."
Article continues below advertisement
Chef Garcia's style widely represents the whole of Latin America, and while the food will be immensely enjoyable to anyone who likes standard Mexican fare, her cuisine goes far beyond that tradition and offers an exotic and flavorful exploration of New World beauty.
"I don't make Mexican food, although my cooking is influenced by it. But really it's a combination of all of the cultures in Latin America; from Venezuela and from where I've lived, like Costa Rica and Argentina, which was a big place for me. Peru and others… You start thinking of all these cultures that have a common thread of ingredients and techniques, and that's my voice."
Here, Chef Garcia offers some delicious New Year's suggestions. Make the rice dish for the holiday table and the buñuelos for a holiday treat, then save the Mac Con Queso for New Year's Day, when some comfort food will be just what the doctor ordered.
Discover more about Chef Garcia, her fantastic cookbooks, her Lorena Bella line of kitchenware and more at cheflorenagarcia.com
Article continues below advertisement
HOPPIN' JOSÉ RICE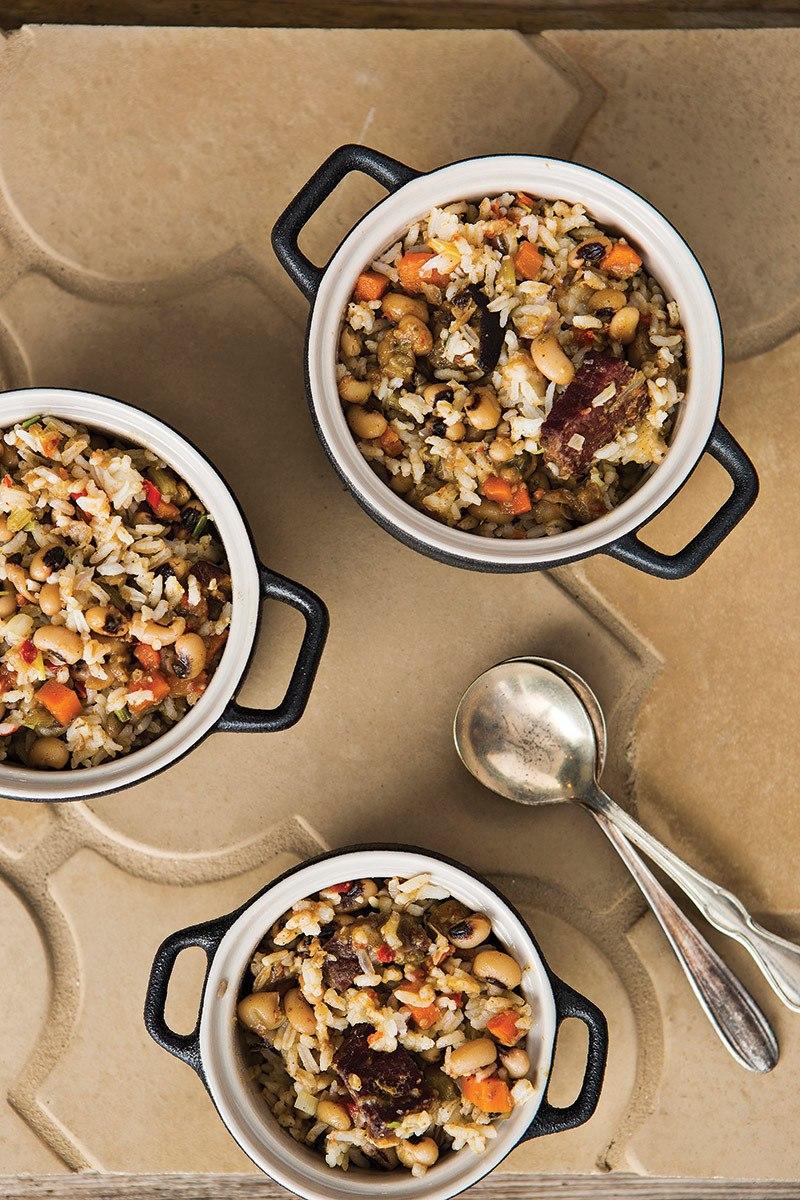 Ingredients
Serves 4
2 tablespoons vegetable oil
½ cup bacon, diced
¾ cup lima beans, thawed
¾ cup Black Eyed Peas Guiso (see recipe below)
2 cups cooked Thai Jasmine rice
¾ cup lima beans, thawed
Olive oil, to drizzle
2 tablespoons fresh cilantro, finely chopped
Method
In a large, deep skillet, heat vegetable oil over medium-high heat. Add bacon and cook for 3 minutes to render fat.
Add lima beans and Black Eyed Peas Guiso. Cook for 2 minutes, then add cooked rice. Let rice and beans cook on medium heat to toast rice, for 10 minutes.
Remove pan from heat and spoon Hoppin' José onto a serving plate. Drizzle with olive oil and garnish with cilantro.
Black-Eyed Peas Guiso
½ cup vegetable oil
2 cups dry cured meat (carne seca), diced and soaked overnight
1 cup white onion, diced small
½ cup carrots, diced small
½ cup celery, diced small
2 tablespoons garlic, minced
1 tablespoon red jalapeño, diced small
1 tablespoon cumin
½ tablespoon paprika
½ tablespoon dried oregano
½ tablespoon ground ginger
1 teaspoon dried rosemary
1 pound black-eyed peas, frozen
5 cups water
1 smoked ham hock
¼ cup fresh cilantro, finely chopped
Method
In a large, deep skillet, heat vegetable oil over medium-high heat.
Add dried meat and cook for 1 minute. Stir in onions, carrots, celery, garlic and red jalapeño. Cook for 2 minutes.
Add cumin, paprika, dried oregano, ground ginger, and rosemary, and continue to cook for an additional 2 minutes.
Add the black-eyed peas, water, and ham hock and bring to a boil. Reduce heat to medium-low, cover and simmer for 45 minutes to 1 hour.
Remove ham hock from pan, then remove pan from heat. Garnish black-eyed peas with cilantro.
Article continues below advertisement
BUÑUELOS with WHITE CHOCOLATE SAUCE & BERRY COMPOTE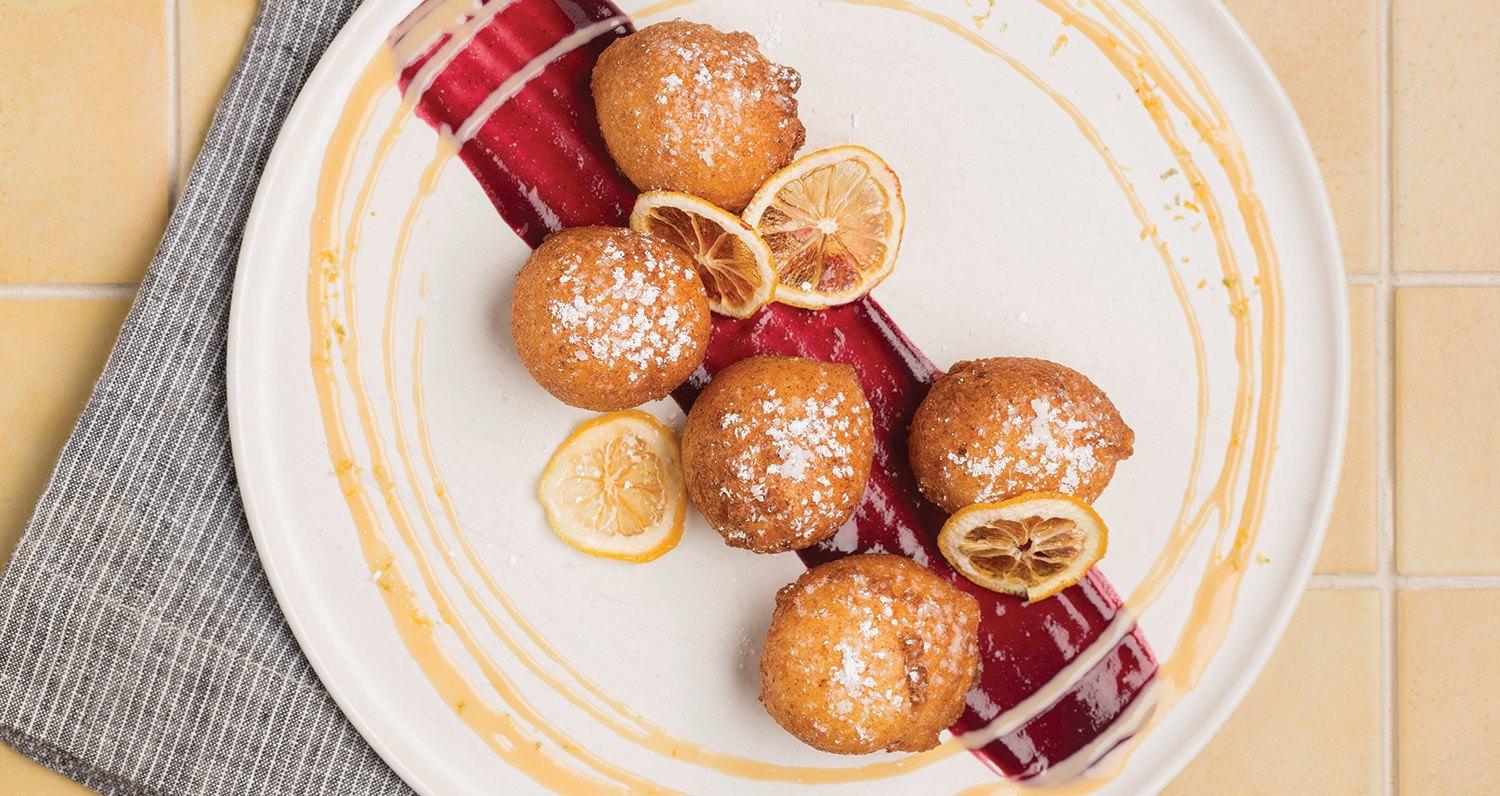 Ingredients
makes 25 buñuelos
¾ cup flour
2 teaspoons baking powder
Zest of 1 lemon
¼ teaspoon salt
1 cup ricotta
2 eggbeaters
1 ½ teaspoons vanilla
3 tablespoons sugar
Vegetable oil for deep-frying (amount depends on the pot using)
Method
Serve with white chocolate sauce + berry compote (see recipes below).
Combine the dry ingredients in one bowl. Combine the wet ingredients in another.
In a heavy pot place enough oil that covers (4" from the bottom) for deep-frying and heat until it reaches 325 degrees. Scoop out dough with a spoon and drop into the 325-degree oil and fry until golden brown. Cook only 3-4 at a time, to not drop the temperature.
Fry the dough at 325 degrees until golden brown.
Take out the buñelos when they are done and place them on a paper towel to drain the excess oil.
On a plate spread 1 tablespoon of the white chocolate sauce and berry sauce and place the fried buñuelo right on top.
White Chocolate Sauce
1 bar white chocolate
1 can condensed milk
½ can evaporated milk
1 tablespoon vanilla
Method
Place all ingredients in a heavy saucepan, at mid-low heat, until everything is melted and combined. Keep warm until ready to use.
Article continues below advertisement
Berry Compote
1 pint strawberries
1 pint blueberries
1 pint raspberries
1 lemon, juiced
3 tablespoons honey
Method
Combine all ingredients in a bowl and let sit for 20 minutes. Blend and refrigerate.
MAC CON QUESO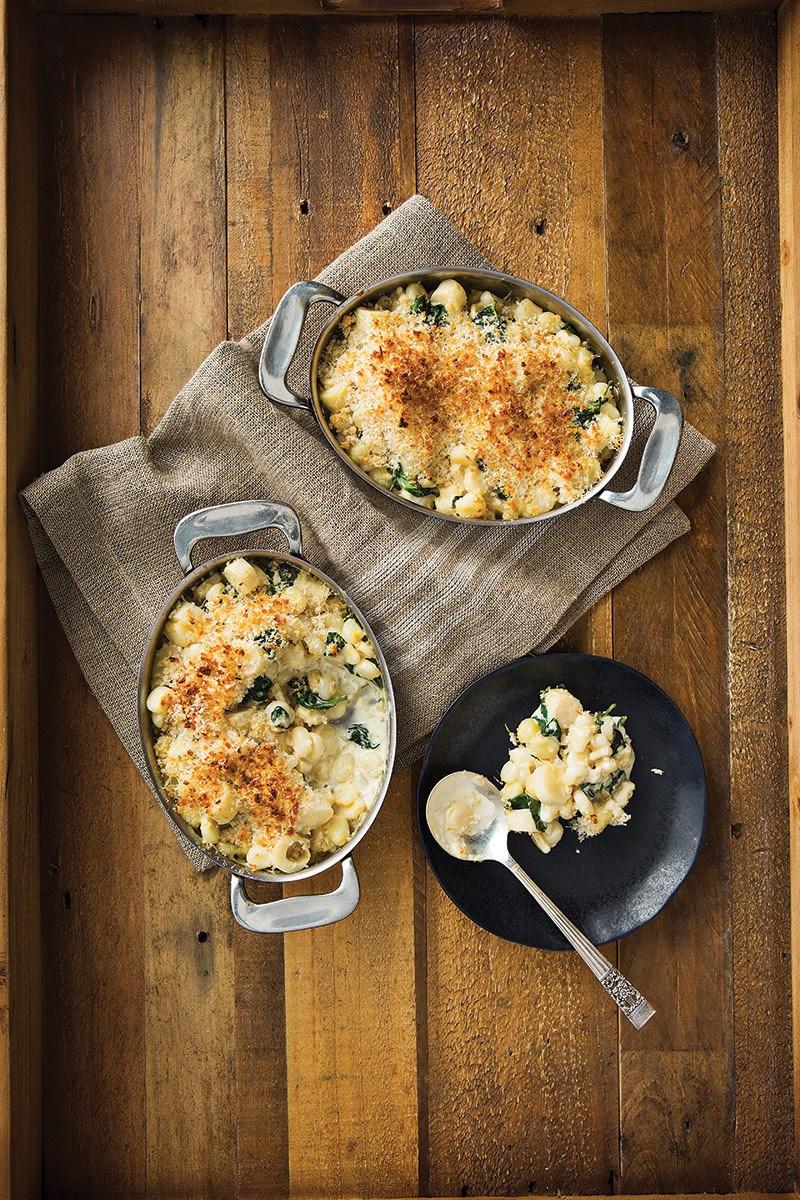 Ingredients
serves 4
1 cup grated Parmigiano Reggiano
¼ cup panko crumbs
2 tablespoons olive oil
½ cup shallots, minced
1 teaspoon garlic, minced
4 cups Peruvian corn
1 ½ teaspoons kosher salt
1/3 cup white wine
½ cup mascarpone cheese
½ cup heavy cream
1 cup (packed) fresh spinach, chopped
1 teaspoon white pepper
1 lemon zest
1 teaspoon lemon juice
1 cup hearts of palm, cut into ½-inch rounds
Method
In a small bowl, toss together the Parmigiano Reggiano and panko crumbs, and set aside.
Preheat oven to 350 degrees. In an oven-safe skillet, heat oil over medium heat. Add shallots and garlic to hot oil and sauté for 1 minute.
Add Peruvian corn and salt. Cook for 4 minutes, then add white wine.
Reduce heat to low and add mascarpone cheese and heavy cream. Toss in the spinach, white pepper, lemon zest, lemon juice and hearts of palm. Stir together and simmer for 2 minutes.
Remove pan from heat and sprinkle with cheese-panko mixture. Place skillet in oven and bake for 20 minutes until the cheese is golden brown.