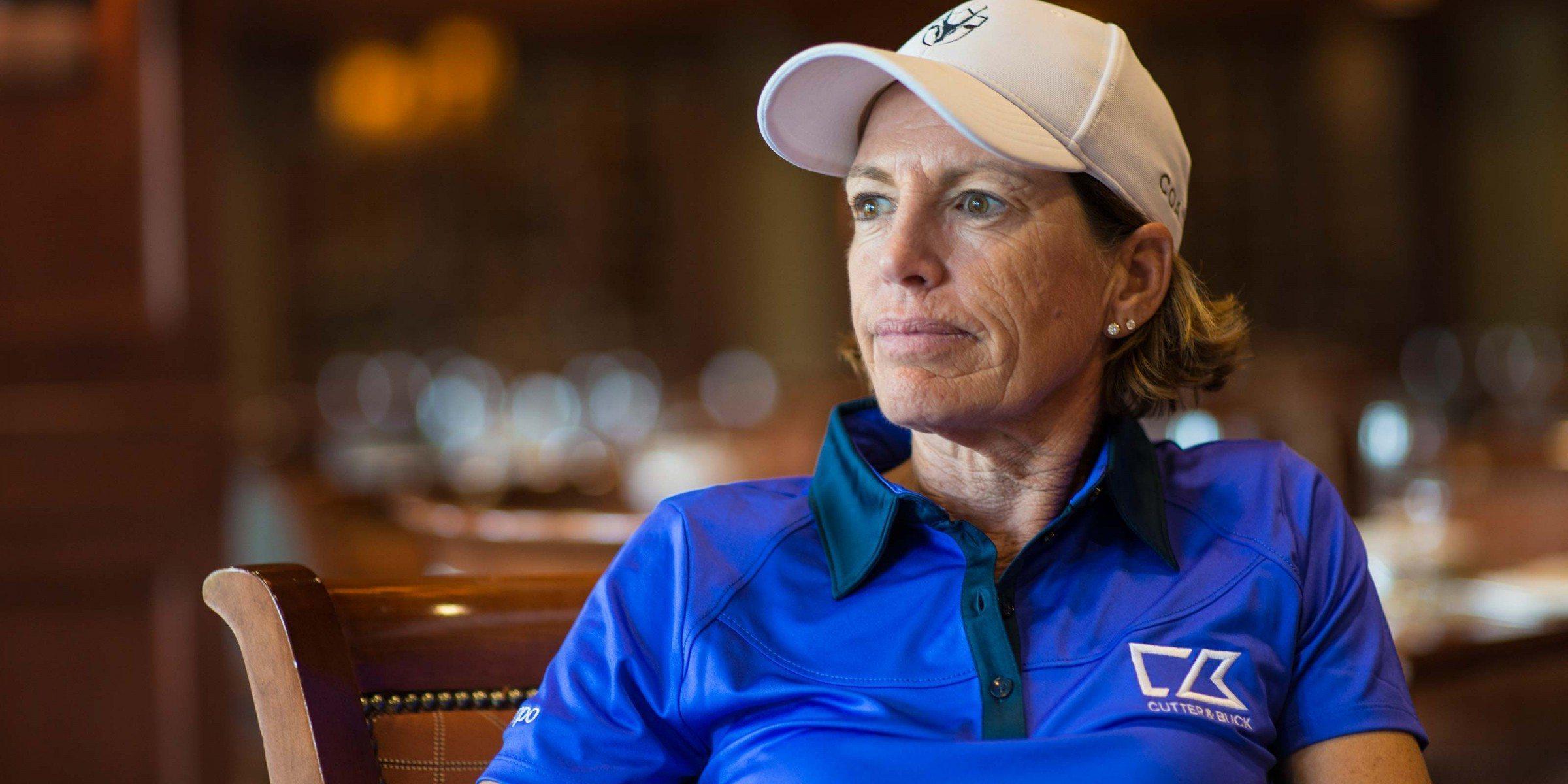 Tough Love With Juli Inkster
Juli Inkster arrived at the exact moment a cup of coffee was handed to me, and I fumbled with the cup and saucer for a moment as I went to shake her hand. Inkster wasn't scowling, but she wasn't smiling either. "Well?" she asked, looking at me. "We gonna do this?" And though it had been only a split second, I got the feeling that I was holding things up. Unsure of how to carry my coffee, camera and notepad at the same time, I chugged the coffee. Downed the whole thing in one go, and felt my eyes well up as it burned. Inkster gave a little nod, turned, and led me to a table. You don't make Juli Inkster wait.
Article continues below advertisement
In 29 years of professional golf, the Hall of Famer has 31 victories (so far), putting her second in wins among all active players on the LPGA Tour and tied for first in majors. With more wins in Solheim Cup matches than any other American, she was a no-brainer to captain this year's U.S. team this year, and so she did, leading them to a record-setting victory in Germany—with no small amount of drama from the European side. As she told various golf media immediately after the win, "It's a great feeling. You know what, I was on them all week. You've got to play with heart. You've got to play with fire in your belly. Never give up. I saw a real team out there today. It didn't look good early, but they hung in there."
Just weeks before Solheim, at the age of 55, she won The Legends Championship at French Lick Resort in Indiana, further underlining the fact that she's still here and still full of competitive spirit. That spirit has led some to label her unfairly, we believe, with Golf Digest calling her a "dictator" in regards to her Solheim captaincy and adding that she "might be the strictest, most serious team captain in golf history." There's no question that she brought discipline to a U.S. side that had been better known for face paint and flag-waving than for winning—"The bottom line is we've gotten smoked the last two cups," she told me—but there's a difference between a dictator and a strong leader. If Inkster cracked the whip a little and set the bar high it's only because she wanted to deliver not just a victory for America, but a lifetime of satisfaction to her team. That feeling, she says, is incomparable.
Article continues below advertisement
"We always say after you play in the Solheim Cup and you play with teammate, that you're bonded for life," she said.
"That no matter where you see them or how long it's been since you've seen them you always go back and look at that match or look at the turning point, how you won or how you lost, and have a few laughs. And to me that's kind of what it's all about.
"Growing up playing team sports I always relished that," she explained. "I just loved the aspect to having teammates and having someone to rely on, someone to pick up, or they pick you up. But when you play golf it is very individual, it' s just you and the course, you and your caddie. But having that team once every two years, everybody loves it. It's having a partner out there, having someone to laugh with and someone to high five and someone to share a moment with."
Camaraderie is a feeling that Inkster loves, and she discovered it in her high school years, though not on teams of her peers, exactly.
"When I first started paying golf in high school I played on the boys team; they didn't have a girls team," she said. "If girls played any sport they were known as a jock, as tomboys.
"I had two older brothers and my dad played professional baseball, so that's what we did: we played sports, and so I followed them. I'm sure if my dad was a dancer I would've danced! But that's what we did. And so I played basketball, I played softball, I started playing golf because I got a job at the golf course."
Changes in golf and in women's sports in general have been mostly good, she believes, though she maintains there's still a long way to go.
"Nowadays the homecoming queen is a soccer girl, the basketball girl, the golf girl," she said.
Article continues below advertisement
"Sports, you know, is so good for girls because it builds confidence, knowing that they can do something, that they don't need to ride the coat tails of a guy.
I have two daughters and that's what I've always been telling them: it's great to have a partner in life but you don't need one if you can't find the right one. They can make their own decisions, they can lead without having to have a guy tell them what to do.
"I think times are changing. Women now are expecting equal equipment, for example," pointing out her recent deal with Coates Golf. "But things aren't quite there," she added, and for a moment we discussed the fact that there are major pay disparities between men's and women's sports, and there are situations like this year's Women's World Cup, in which the top women's soccer teams in the world were made to play on artificial turf—something that would never even be considered for the men's World Cup.
"Some of the things that we're asked to do, the men would never do," she said. "But we do it because we're professionals and also because [with golf] the men have been doing this 50 years longer than we have, so we're trying to catch up. Still, if someone had told me when I was 23 or 24 that I'd be able to play golf for a living, and make a good living, I would've said 'no way.' But I have, so we've come a long way."
"Can we go further? Yes. But I think we're trending in the right direction."