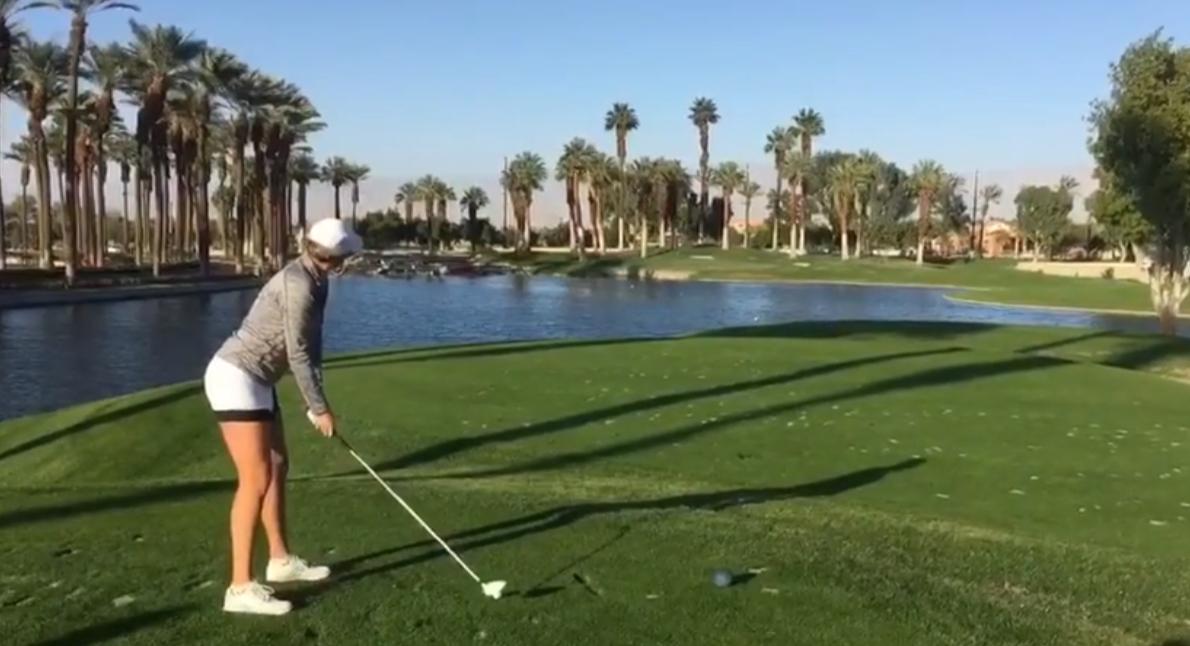 Q&A Spotlight: Nikki B, Her (Almost) Hole In One
Nikki B is a golfer and blogger who reviews everything golf— from drivers to push carts— she's in touch with all the hot products every golfer should have. Also on her blog, you'll find her documenting her travels, as she plays at beautiful courses across the world. You may have seen her in the golf universe, as she has worked with amazing companies such as Kia, TopGolf, and Golf Galaxy.
Article continues below advertisement
WGJ: When did you start golf?
Nikki: I started playing when I was 13 years old! That may seem young, but compared to other competitive and collegiate golfers I played with, I got a late start. Luckily, I'm a quick learner and athletic!
What were your First set of clubs?
Gosh, my first set was Taylormade! My dad works in the industry so he took care of me. He always provided me with the best gear.
Who taught you?
My dad taught me when I first started. I had a few instructors growing up, but my long-time instructor is Phil Dawson. Of course, my dad still gives me tips to this day. I appreciate his advice because he knows what he's talking about!
What do you think is the most important aspect of the golf swing for a beginner to focus on?
The most important aspect of the golf swing for a beginner to focus on is letting the club hit the ball. It's easy to try and smack it instead of letting the club swing freely and do what it is supposed to do!
What's your favorite golf swing on the LPGA, LET, or Symetra tour?
Oh, this is such a tough one because there are so many great female swings out there! I watched Lexi Thompson on the driving range at the Kia Classic this past year, and she stripes it! She may not have the most perfect swing, but I love how she effortlessly crushes the ball. I also may be biased, but I've always admired my friend, Savannah Vilaubi's swing. It's just so pretty to watch!
Favorite golf apparel right now?
I'm absolutely loving JoFit apparel right now! I love that they not only have golf apparel, but sell lifestyle and fitness apparel. Of course, you can't go wrong with Lululemon, Adidas, and Nike!
What is your dream golf vacation?
Does Greece have any golf courses?! Just kidding, my dream golf vacation would be Baker's Bay with the SB2K16 boys. (Editor's note: For those who don't know, the SB2K16 boys consist of PGA Tour stars Jordan Speith, Rickie Fowler, Justin Thomas, and Smylie Kaufman and their trip to the Bahamas. It's amazing… and a little crazy, but I recommend checking it out.) Kidding again! I've already played Cypress Point with my dad and that was definitely my favorite round ever! The only thing that may top it is playing Augusta (unlikely!) or St. Andrews with my dad, Arnold Palmer, and Natalie Gulbis. She was my big inspiration to start playing because she grew up in a town near mine! Of course I'd have to have the King there and the guy who was reason I started playing!
For more of Nikki, her reviews, and travels, follow her blog, and her Instagram.