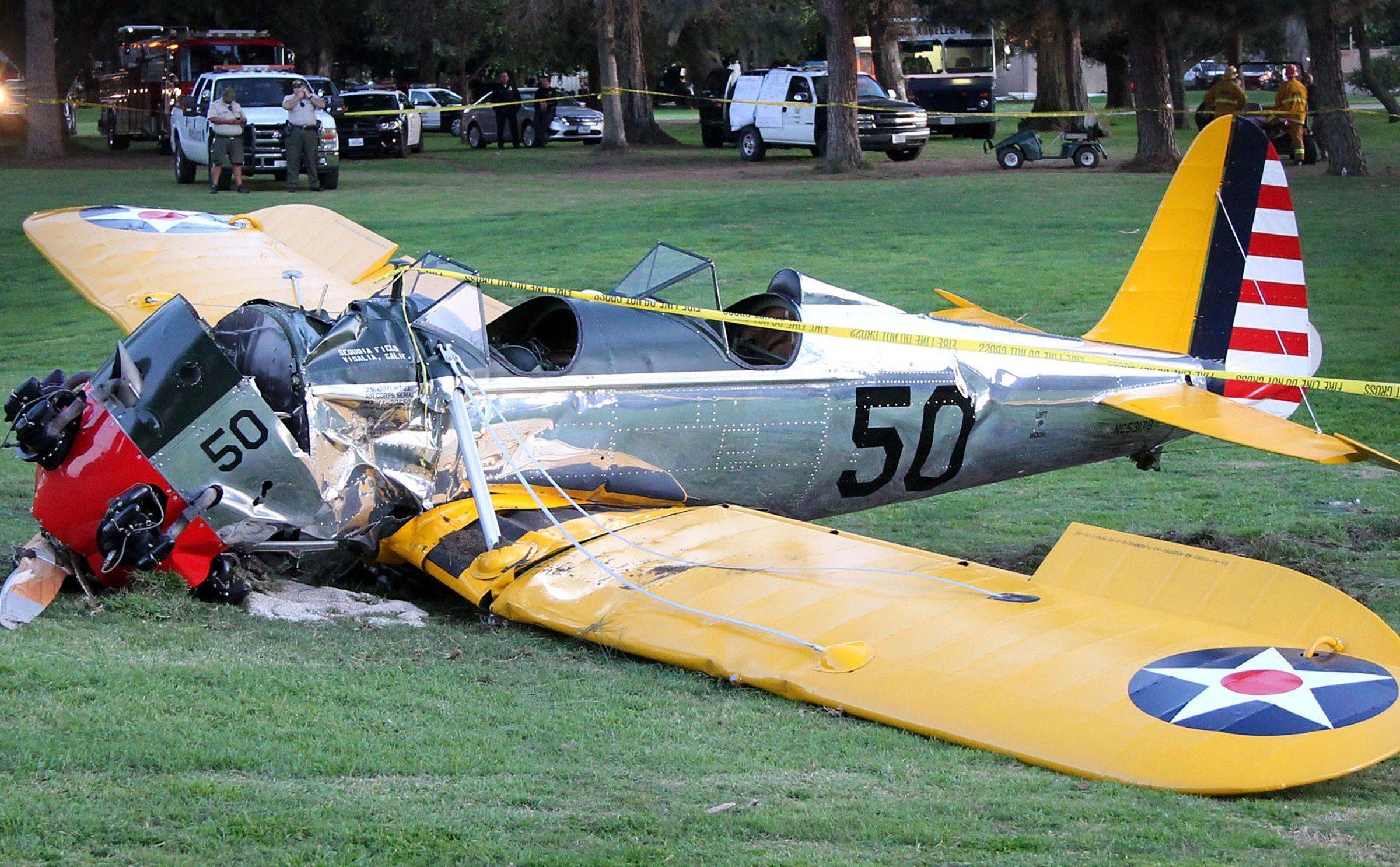 Sky Meet Course
In a well-publicized incident this March, actor and pilot Harrison Ford crash-landed his small vintage airplane on an Los Angeles golf course. The engine quit on him, but he was able to steer away from the homes around the Santa Monica Airport (where a number of actors keep private aircraft) and put the plane down on the Penmar Golf Club in Venice, a tricky 9-hole favored by local doctors on their lunch hours. In fact, Ford couldn't have picked a better spot as two doctors (one of them a spine surgeon) just happened to be near the 8th tee where he came down, and immediately rushed to his assistance.
Article continues below advertisement
Later praised for his piloting skills in maneuvering the plane away from residential areas, Ford has a history of flight excellence. In 2000, he flew his helicopter into the Wyoming wilderness and rescued a 20-year-old hiker from the top of Table Mountain, and the next year he again used a helicopter to rescue a 13-year-old Boy Scout lost in Yellowstone National Park. Fully recovered from the plane incident, the 72-year-old Ford is currently appearing in the new Star Wars film, reprising his role as Han Solo—a dashing rogue who flies around, rescues people, and occasionally crashes… Imagine that.
Sharknado
In 2012, a full year before the movie Sharknado landed, golfers in San Juan Capistrano, California, got an advance showing of sorts when a leopard shark fell from the sky and onto the golf course near the 12th tee at San Juan Hills Golf Club, roughly three miles from the ocean. A course marshal loaded the two-foot-long shark into his golf cart and raced it back to the clubhouse, where staff put it in a large bucket of improvised salt water before a cart attendant drove it to the ocean, released it and watched it swim away. It reportedly had two wounds on its back and so the best guess is that a bird of prey grabbed the shark and then dropped it on the course—no closer to the hole and without penalty, presumably.
Pro V1 Rain
Floridians love their golf, but in early September of 1969 residents of Punta Gorda—just north of Ft. Myers—were doing their best to avoid the game when a flurry of golf balls started raining down from the sky, pelting cars and filing gutters, streets and lawns. A meteorologist later suggested that a passing tornado (somewhat common over the Gulf of Mexico) might have swept inland over a golf course, sucked up a water hazard or driving range full of balls and then spewed them out all over town.