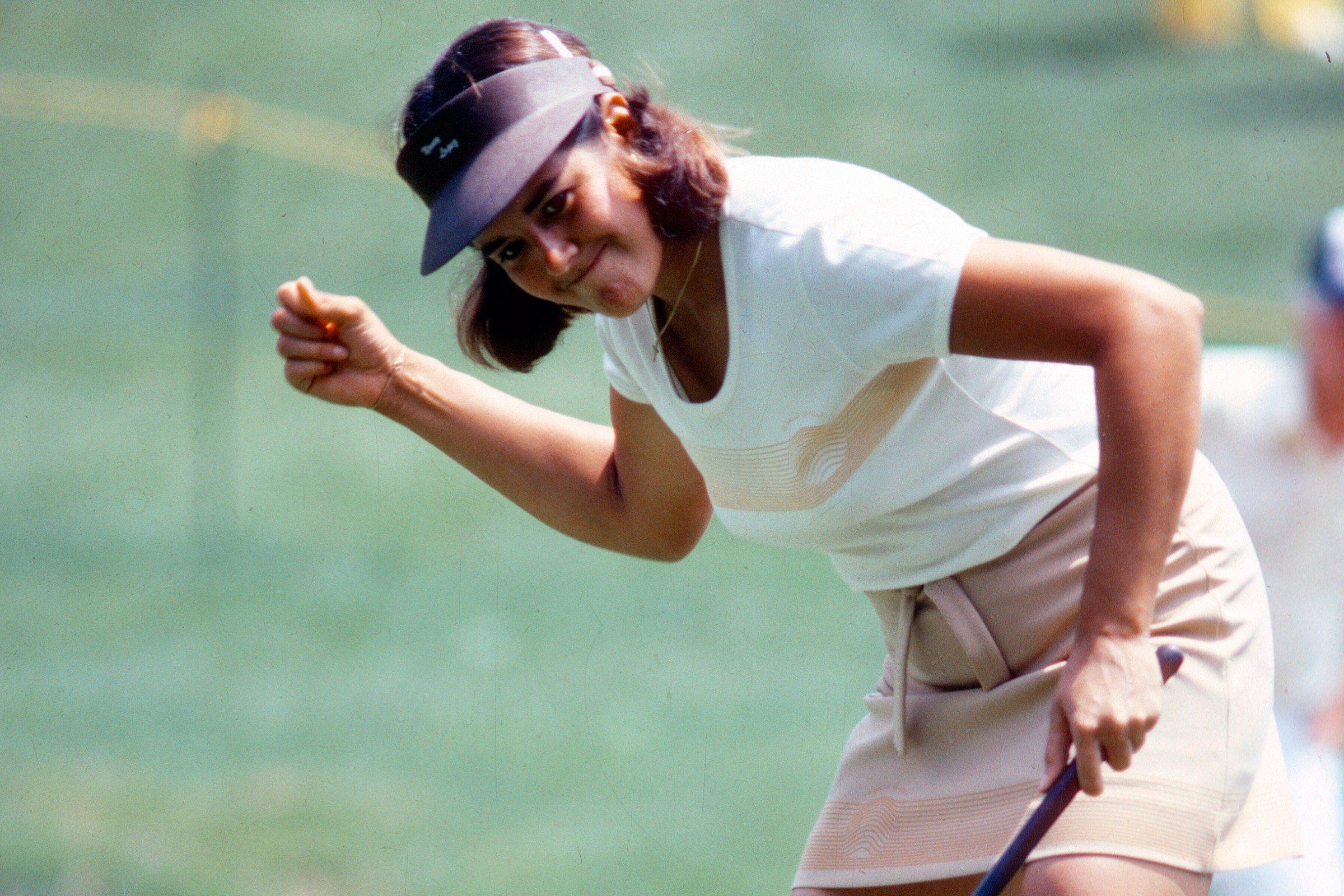 Gentlemen Only, Ladies Forbidden – A History
Women talk too much, they play too slowly, they can barely hit the ball out of their own shadows. And when one wins a mixed event… Well of course she did—just look at her high handicap! And anyway she was playing from the ladies' tees.
Article continues below advertisement
After more than 500 years of golf as we know it, you'd think these dusty old clichés would be worn out, beat up, exhausted, and discarded like so many broken tees—and yes, there are men who don't subscribe to any of the above. But evolution comes slowly to many among the male golfer species, and so the game's old fogeys—in no short supply roaming the halls of clubs everywhere—are apt to sire young fogeys, and thus one of golf's oldest traditions plods on, wheezing and seemingly always near death, as khaki-clad young men disparage the ladies' game just as their khaki-clad forefathers did before them.
Of course it didn't start with golf.
The first-ever mention of a ball game (men's or women's) in literature might appear in Homer's Odyssey, with Princess Nausicaa playing ball on a beach with other women. The epic was penned sometime between 750 and 650 BC, not long after the first Olympics were held, and yet female athletes were forbidden from participating in the Olympic Games until 1900.
During her trial in 1587, a game brought trouble to Mary Queen of Scots when it was pointed out that she'd played golf just days after the death of her husband, Lord Darnley, in 1567. Her prosecutors said hitting the links so immediately following his death indicated poor if not suspicious character, but if the script had been flipped would her widower's time on course have been viewed as the meditation of a man in mourning? Perhaps she'd made a habit of beating her courtiers, dropping one too many birdies to find a friend in the clubhouse, never mind the courthouse. In any case, she lost her head.
Article continues below advertisement
In 1789 the intellectuals of the French Revolution mandated equal physical education for boys and girls, but Napoleon tore that apart 20 years later and put formal sports back to boys-only. The Germans did better, instituting regimented women's athletics in 1793, but such moves barely cleared the hurdles and so by the mid 1800s women's sports were mostly framed as play, not as competition. Think archery, horseback riding, swimming, tennis and, of course, golf.
At the end of the 19th century, even as the club-and-ball game was starting to take hold in America, men nearer to golf's ancestral home were working diligently to come up with ways to keep the ladies in check. One who worked particularly hard at this was a certain Lord Moncrieff who, would you believe, decreed that women should not hit the ball any further than 60-70 yards.
"Not because we doubt a lady's power to make a longer drive but because that cannot well be done without raising the club above the shoulder," he wrote. "Now we do not presume to dictate but we must observe that the posture and gestures requisite for a full swing are not particularly graceful when the player is clad in female dress."
Article continues below advertisement
Perhaps he was thinking of a particular dress and of a particular group of women. The Musselburgh Fishwives, for example, who in 2011 celebrated their 200th anniversary with a golf day on the original links at Musselburgh, were among those affected by Moncrieff's policies. Was he fed up with being outdriven by them? Because of the nature of their jobs (they regularly carried fish baskets the weight of a Jordan Spieth golf bag) these were probably among the strongest women in the land.
Lord Moncrieff would still have been around when, in keeping with his recommendation, The R&A members built their wives a putting green next to the Old Course in St Andrews. They called it "The Himalayas" and the idea was that the women could putt while the men played golf. (Previously, some of the ladies had been known to pass their time flirting with the caddies.)
Much though the women loved (and still love) their putting green, they longed to bash the ball down the fairways of the Old Course. And with that determination came an urge for women golfers in the UK to have their own official body, one they would call the Ladies Golf Union. Miss Blanche Martin, their spokesperson, sought the advice of a leading amateur by name of Horace Hutchinson, who was less than encouraging in his response.
Article continues below advertisement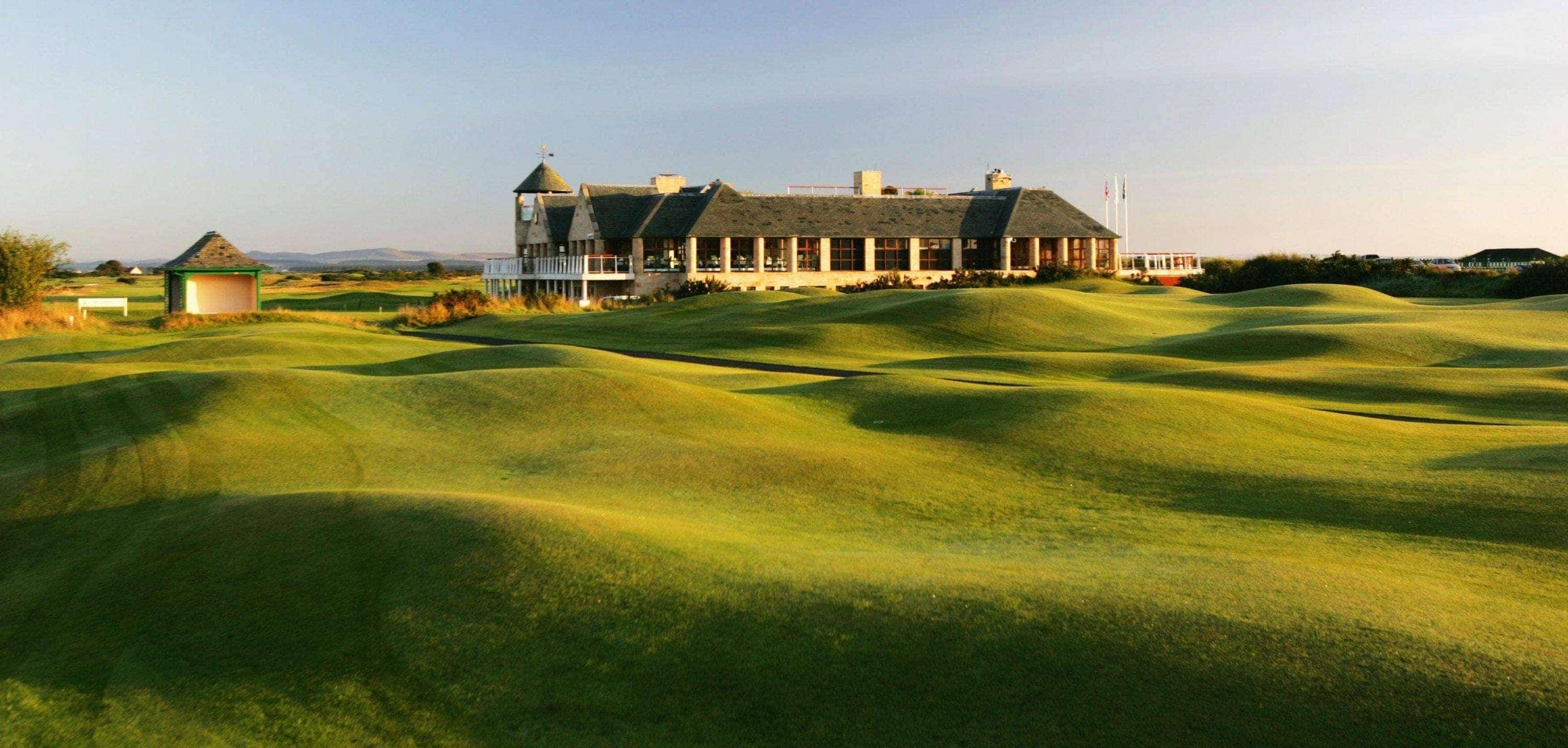 9th April 1893. North Berwick
Dear Miss Martin,
I have read your letter about the proposed Ladies' Golf Union with much interest. Let me give you the famous advice of Mr Punch (since you honour me by asking for my opinion). DON'T. My reasons? Well?
1) Women never have and never can unite to push any scheme to success. They are bound to fall out and quarrel on the smallest or no provocation; they are built that way!2) They will never go through one Ladies' Championship with credit. Tears will bedew, if wigs do not bestrew the green.
Constitutionally and physically women are unfitted for golf. They will never last through two rounds of a long course in a day. Nor can they ever hope to defy the wind and weather encountered on our best links even in spring and summer. Temperamentally, the strain will be too great for them. THE FIRST LADIES' CHAMPIONSHIP WILL BE THE LAST, unless I and others are greatly mistaken. The LGU seems scarcely worthwhile.
Article continues below advertisement
His advice served a purpose—just not its intended purpose. Hutchinson provided the women with precisely the kind of impetus they needed to get their scheme underway. Not only was the LGU founded within a matter of weeks but the first British Women's championship began on June 13 of that same year at the Ladies' Course of the St Anne's Golf Club in Lancashire.
The following season, the New York Sun was moved to comment on the apparently bright future of the women's game: "A review of the athletic sports and pastimes which are becoming prominent is most interesting in review and most encouraging in prophecy of the new and stronger womanhood of the future…Golfing women are said to be more enthusiastic over their favorite game than half the men who play on the links."
Indeed, even as Hutchinson and his ilk protested, women's golf was on the move.
The breakthrough female champion, Lady Margaret Scott, could not have been a better advert for the pastime. Lord Moncrieff might not have approved of her penchant for hitting the ball 130-140 yards and for swinging the club back as far as a John Daly, but her golfing manners were beyond reproach and her victories in the first three British Ladies Amateurs (from 1893-1895) proved there could be dominant women players.
Article continues below advertisement
Joyce Wethered was the star of the 1920s, with no less a figure than Bobby Jones saying she had the best swing—man's or woman's—that he had ever seen. Wethered had one grand rival in England's Cecil Leitch, and another in America's Glenna Collett, whom she played in the final of the 1929 British Women's Amateur at St Andrews.
"Joyce," said Collett, a winner of six U.S. Amateurs, "is as near perfection as I ever dreamed of being when I sat in a deep-seated rocker on the front porch."
Yet even with such "perfection" on display, your average man continued to view women golfers as an inferior species. Most of the more prestigious clubs around the golfing globe were solidly all-male affairs, and no exceptions were made.
As late as 1946, after officials at Royal Liverpool refused entry to the wife of three-time [British] Open champion Sir Henry Cotton—despite Cotton winning their tournament the same week—the club's secretary declared to the press:
Article continues below advertisement
No woman ever has entered the clubhouse and, praise God, no woman ever will.
- Royal Liverpool's club secretary in 1946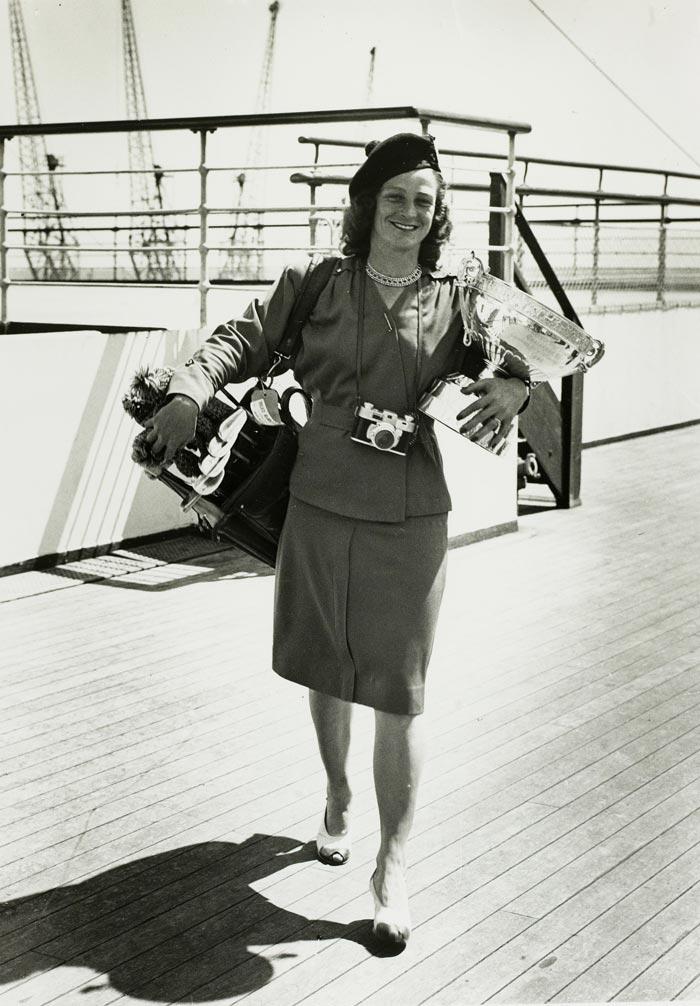 Article continues below advertisement
American golfer and all-around athlete Babe Zaharias didn't have to enter the clubhouse at Wentworth to make her point in July of 1951—the year after the LPGA was founded; she and a group of American women professionals enjoyed a clean sweep in the singles there playing against top British male amateurs, with "The Babe" as she was known, out-driving Walker Cup player Leonard Crawley all day from the same tees. "He was shaken to the bristling tips of his ginger moustache," proclaimed the UK's Daily Express.
The 1960s saw the likes of Marley Spearman, who would win two British Amateur championships, being ushered out a revolving door at a top club in England on the same revolution on which she'd entered. In Australia a group of competitive women golfers on tour were asked to use the back door at every clubhouse stop. And so it went around the world, and not just in golf. In 1967, as American Kathrine Switzer became the first woman to run the Boston Marathon, she was attacked mid-race by Jock Semple—an event official, no less—who tried to physically remove her from the course while yelling, "Get the hell out of my race!" And where do we even begin to discuss the challenges faced by African American women and other minorities on course and elsewhere? Althea Gibson, who in 1964 became the first black woman on the LPGA Tour—at the age of 37 and after winning 11 Grand Slam tournaments in professional tennis(!)—was often prevented from staying in hotels and entering clubs during tournaments because of her race, and she frequently had to dress for play in her car.
Article continues below advertisement
Frustrated, fed up or just plain angry, women fought back in the 1970s. This was the decade of tennis legend Billie Jean King beating Bobby Riggs in the "Battle of the Sexes," of the NCAA reluctantly being made to accept women's college athletics, and of 1972's Title IX, which provided for equal federal funding of both boys' and girls' school sports, golf included. The legacy of that law in particular has been dramatic: before Title IX only 7% of high school student-athletes were girls. Today they make up more than 41%.
The decade's changes were evident on the golf course as well, starting with the LPGA's Colgate-Dinah Shore, which debuted in 1972. The winner's cheque, $20,000, was five times higher than anything that had gone before, and everything to do with the week was lavish in the extreme.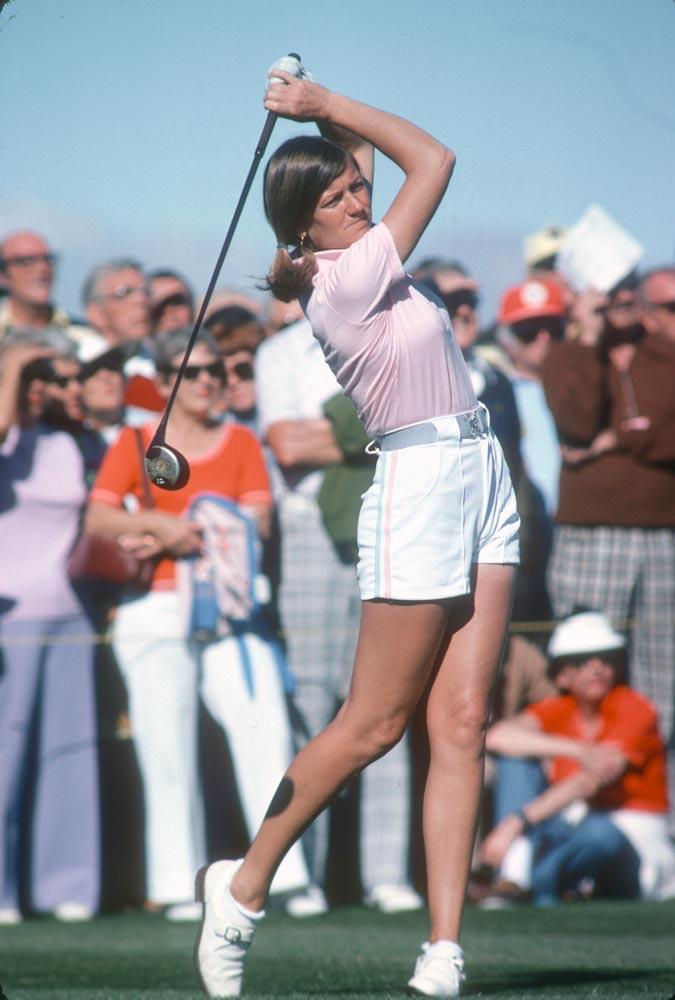 Article continues below advertisement
Inaugural event winner Jane Blalock described the arrival of the Colgate as "a defining moment… We began getting corporate-type sponsors, we had celebrities wanting to meet and play with us and we were asked to do TV commercials."
Things got better still when a star came along who sparkled like no other: Nancy Lopez, who won five successive tournaments in 1978. She was the equivalent of an Arnold Palmer or a Seve Ballesteros. Everyone—and that includes many a former misogynist—loved her, and not just for her looks, which many men of course noticed as much as (or more than) her game.
By the time Annika Sorenstam arrived in 1994, the LPGA was flush with personalities and talent, and it started stealing the occasional headline from the men's game—no more so than in 2001, when Sorenstam became the first woman ever to shoot 59 in competition. Three years later a 14-year-old Michelle Wie appeared as an amateur at the men's 2004 Sony Open in Hawaii and missed the cut by one shot. Between 2010 and 2016 a host of Asian women amassed 18 major victories on tour while only one Asian man has ever won a single major (YE Yang at the 2009 PGA Championship). And so it has gone, with women from around the world shining on course year after year in the modern era, showing incredible skill and poise. Everything, it seems, is finally good.
Article continues below advertisement
Women are everywhere. We're letting them play golf and tennis now!
- FOX's Brian Kilmeade in 2012
So why in 2012 did a then-48-year-old Brian Kilmeade, co-host of FOX & Friends morning television show, sound like he was broadcasting from the 1950s when he remarked on air that, "Women are everywhere. We're letting them play golf and tennis now!" And why did former President of the PGA of America Ted Bishop try to insult PGA pro Ian Poulter by calling him a "Lil Girl" on social media in 2014? And why in the same year did the well-known and men-only Wheatley Hills Golf Club on Long Island ask its female general manager to stock the men's locker room with adult magazines and to ask female servers to wear skimpy outfits? And why, when Kim Johnson appeared on camera at last year's [British] Open watching her PGA TOUR pro husband Zach putt for victory, did veteran BBC commentator Peter Alliss remark, "She is probably thinking, 'if this goes in I get a new kitchen'"? And why does the "why" list go on and on?
Article continues below advertisement
Following her termination for refusing the members' sexist requests after 30 years' service at Wheatley Hills, DeMay sued the club for gender discrimination and won. And Poulter sharply responded to Ted Bishop's comments with this admonition: "Is being called a little girl meant to be derogatory or a put-down? That's pretty shocking and disappointing, especially coming from the leader of the PGA of America." Bishop was dismissed from his post just 24 hours after he made his comments. But despite positive indicators like these that we've progressed, "old fogey" attitudes persist.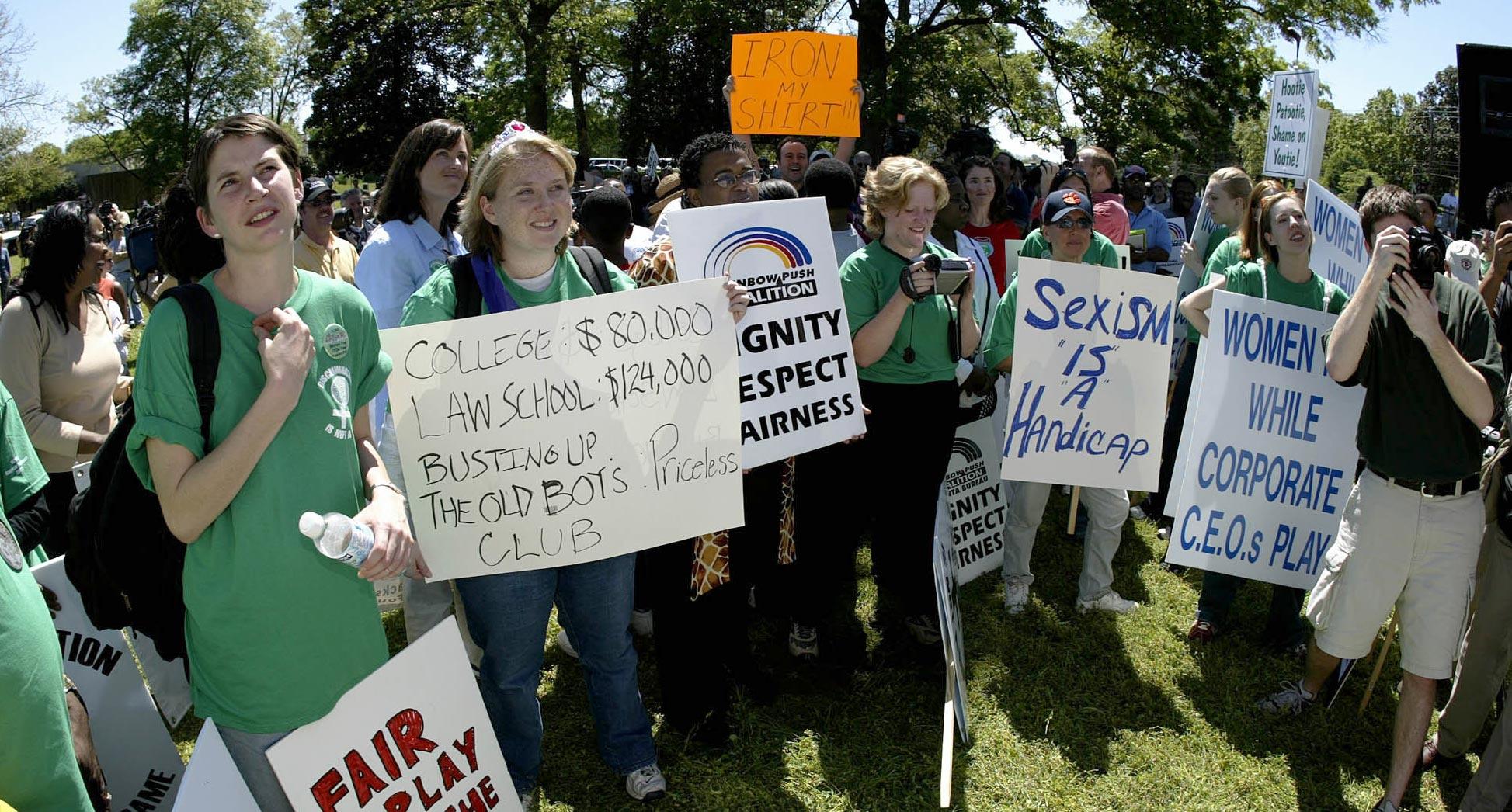 Article continues below advertisement
Martha Burke, the feminist writer who in 2002 contended that the holding of the Masters at the all-male Augusta National Golf Club constituted sexism, arranged a protest the following year that took place in a muddy field not far from the gates guarding the storied Magnolia Lane. News reporters were there in strength, while the golf writers were involved with a never-to-be-forgotten press conference given by Hootie Johnson, then Augusta National's chairman.
At one point, a writer posed the following question: Tiger [Woods] is on record as saying that he believes there should be women golfers here. Does that have any influence on you at all?
Hootie's response: "I won't tell Tiger how to play golf if he doesn't tell us how to run our club."
In the wake of that week, pressure mounted on the Masters' corporate sponsors and, whatever anyone might say to the contrary, such pressure eventually led to the club opening its doors to women members in 2012. Two years after Augusta changed its policy, Scotland's storied Royal & Ancient Golf Club of St Andrews did the same, with 85% of the members voting in favor of admitting women after some 260 years of holding the fort men-only.
Article continues below advertisement
This year the USGA elected its second female president in its 122-plus years: Diana Murphy. Next year, the UK's governing golf organization The R&A is merging with the Ladies Golf Union, the group begun so long ago in the wake of a dismissive letter.
There are still numerous men-only clubs around the world, purses are much lower at LPGA tournaments than they are on the PGA TOUR, and there's a long way to go before the game is truly equal for men and women, but at least some of today's top leaders are working in earnest towards progress. Case in point: current LPGA Commissioner Mike Whan, who repeatedly asks Augusta National Club Chairman Billy Payne to host a Women's Masters. Despite Payne saying there's little chance of it happening, Whan says he makes the request every year, also crediting Augusta with giving generously to women's golf initiatives like the LPGA-USGA Girls Golf Program and others. Still, the idea of a Women's Masters at Augusta has a lot of people talking.
"It'd be great," Whan told journalists this year. "I don't know how you become a member at Augusta National but it's probably not by saying you wanna be! And I don't know how you have a tournament at Augusta National but it's probably not by saying that you want one! So, we've said our piece and it would be great someday, so why not dream?"